YesterMorrow releasing in November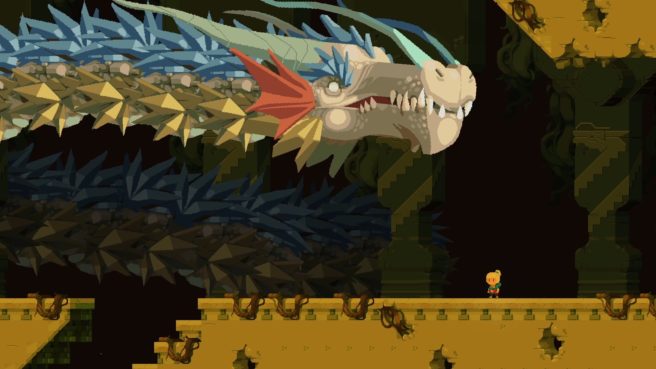 Today, Blowfish Studios and Bitmap Galaxy announced that YesterMorrow will launch on November 5. The time-traveling puzzle platformer will be sold digitally via the eShop.
Here's an overview of YesterMorrow, along with a trailer:
Embark on a journey of light and darkness as Yui, a young girl thrown into extraordinary circumstances. Travel between timelines, braving the post-apocalyptic present in hopes of restoring the idyllic past. Bring down the Shadows who destroyed Yui's home and stole the Sun from the sky by mastering the Everlight, a mystical force granting her strange powers.

Alternate between eras while traversing four islands on a mission to repair the arcane tower that holds within it the key to control the flow of time. Take the fight to the Shadows with the ability to launch energy bombs, freeze time, and more, before turning back the clock in search of secrets and clues. Restore the Sun to its rightful place and save Yui's family from a dark fate.

Solve time-bending puzzles. Uncover hidden passageways in one reality to make progress in the other while battling against the sinister creatures who seek to halt Yui's quest at every turn. Climb through dense forests, scour desert ruins, and brave the icy caverns, all brought to life with gorgeous retro-inspired pixel art that brings a vivid sense of atmosphere to the adventure.

Relish the serenity of a bygone era and feel the pain of a scarred and broken present represented by rich environments teeming with lore. Experience the sweeping highs and emotional lows of Yui's story with dynamic music that swells during moments of triumph and intensifies at climactic showdowns against her shadowy foes. Guide Yui's path to determine her fate – can she overcome the darkness to save both her world and her family?
Pricing for YesterMorrow is set at $19.99 / €17.99 / £15.99 / $24.99 AUD. It features English, Spanish, German, Russian, French, Chinese (Simplified and Traditional), and Japanese language options.
Source: Blowfish Studios PR
Leave a Reply