Yonder: The Cloud Catcher Chronicles officially announced for Switch, has a new photo mode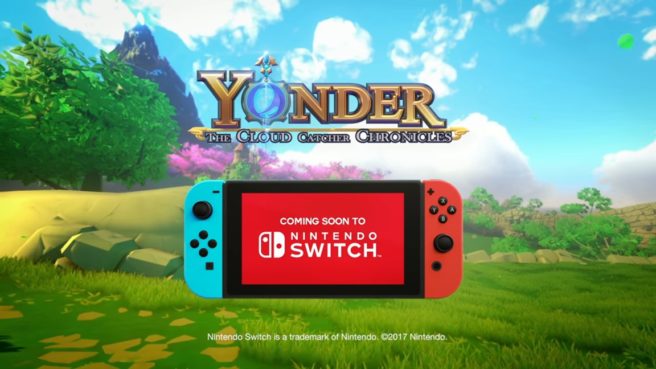 Yonder: The Cloud Catcher Chronicles was previously leaked for Switch last month. Prideful Sloth made the news official today, confirming that the open world adventure game will be released on the system "soon".
Yonder will have a new photo mode on Switch that allows players to share images of the world with friends. English, French, Italian, German, Spanish, Japanese, Russian, and Brazilian Portuguese will be supported.
Here's more on Yonder: The Cloud Catcher Chronicles, including a trailer:
Gemea is a land filled with natural delights. The luscious forests, quiet shores, and frozen peaks are home to adorable creatures such as Fabbits and Squombles. These wild wonders beckon to those with a penchant for exploration. When a curious dark miasma floods the flora and fauna, it's up to your hero to discover the origin of the strange substance. Create your own hero or heroine and embark on your journey of self-discovery across the gorgeous island and aid the people in need of your assistance.

Your hero quickly befriends the locals and discovers magical sprites that can dispel the dark energy known as Murk that plagues Gemea. Try your hand at farming, crafting, cooking, brewing, and fishing to create a sustainable lifestyle and help the people of the land.

Yonder's story is spread across eight distinct biomes, each with its own day/night and weather cycles, hidden sprites, unique animals to befriend, and quests to accomplish, all at the player's pace. There's always something to discover behind every corner. Relax and unwind with Yonder on the Nintendo Switch – at home on the couch, on the bus, or from the comfort of your bed with a nice hot cup of tea!
Yonder: The Cloud Catcher Chronicles will be sold digitally for $29.99. A physical version will be available for $39.99.
Source: Prideful Sloth PR
Leave a Reply