Zelda: Tears of the Kingdom has recipe cooking cards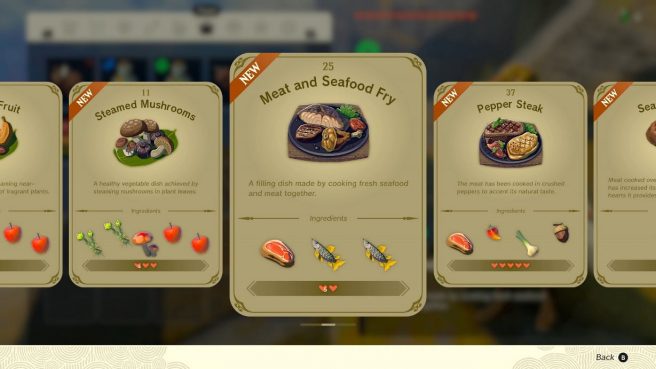 Nintendo has been sharing more tidbits about The Legend of Zelda: Tears of the Kingdom on its Japanese Twitter account for the series, and it includes confirmation that the game will save cooking recipes with cards.
The brief note was sent out about what's currently known in Japanese as "Cooking Notes". With these, players can look back at the dishes they've made. Players can easily make their favorite dishes again by checking the recipe.
Cooking was a big part of The Legend of Zelda: Breath of the Wild, but it wasn't without its issues. Not having recipes was one of the biggest complaints. Players would either need to remember what they made previously, or write it down somewhere for future reference. Thankfully, it looks like Nintendo took that feedback to heart and is making things easier for players.
A screenshot provided by Nintendo today showing what the recipes look like. Players will be able to check out a brief description of the dish, the ingredients that are required, and the effect it has. We're able to see Steamed Mushrooms, Meat and Seafood Fry, and Pepper Steak above.
We should mention that recipes aren't the only improvement to cooking in Zelda: Tears of the Kingdom. This time around, it'll essentially be possible to cook anywhere with the Portable Pot, though they're one time use only – meaning you'll have to obtain another one to do it again.
The Legend of Zelda: Tears of the Kingdom launches for Switch on May 12, 2023.
Leave a Reply