Zenith getting a physical release on Switch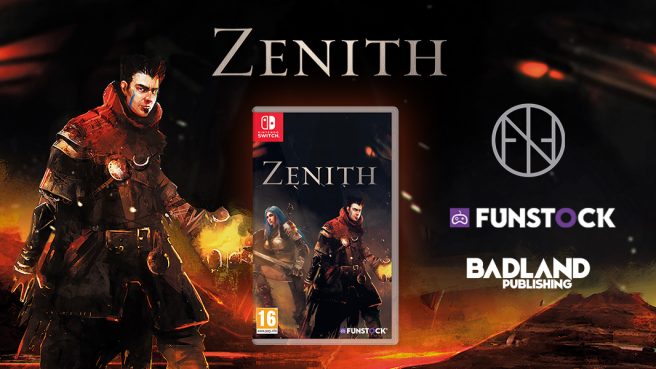 Original (4/28): Badland Publishing, Infinigon, and Funstock announced today that a physical release of Zenith is in the works for Switch. Fans will be able to get their hands on a boxed copy this summer.
Zenith first appeared on Switch in September 2019. This marks the first physical release for the game, as it has only been offered as a digital download thus far.
Learn more about Zenith below:
Get ready to meet the definitive anti-hero and the troop that will join him in this ambitious adventure. This delirious adventure will take you to a peculiar kingdom of magic, with orcs that are morons, clumsy wizards, hero apprentices with little tolerance, a political plot of the highest level and giant spiders that sing opera!

Explore a world of possibilities: Explore a fully-realized fantasy realm and one of those world map things we used to love.

Face huge bosses, dangerous foes, and angsty teenagers: Find tons of parodies and pop culture references – let's see if you can recognize them all.

Unlock special abilities: Upgrade basic combo movements with an all-powerful 'final blow' type move!

Play as Argus Windell, a pretty good wizard – Argus will embark on the most dangerous adventure of his life. Explore a fantasy world filled with references to RPG classic, where you'll upgrade Argus' weaponry and spell catalogue, as well as his clothing. Unleash earth, ice and fire-based magic in detailed locations including abandoned temples, villages, and treasure-filled dungeons.

Argus knows everything there is to know about ancient artefacts, that all changed after an apocalyptic event. Now Argus is a retired hero who makes potions and is just looking for some peace and quiet. That all changes when a group of heroes show up in town looking for an ancient artefact to save the world. Can you keep the dangers of the artefact out of the wrong hands?
We have a look at the boxart for the physical version of Zenith on Switch above.
---
Update (5/13): Zenith is confirmed to be available physically in August.
Source: Funstock PR
Leave a Reply