Zombie Army 4: Dead War heading to Switch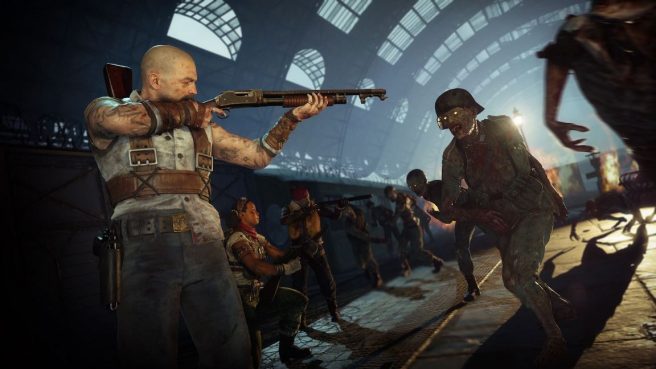 Rebellion is continuing its Switch support with the announcement of Zombie Army 4: Dead War. Fans can pick up the title on April 26, 2022.
Here's an overview:
Developed by Rebellion North, the Nintendo Switch version of Zombie Army 4 follows the success of recent Nintendo Switch conversions of Rebellion owned-IP from the same team including Sniper Elite 4 and Strange Brigade.

Zombie Army 4 takes you to 1940s Europe where you have to do battle with hordes of abominable occult enemies using epic weapons in a harrowing campaign as you fight to save humankind from undead Armageddon. The resistance has defeated Zombie Hitler and cast him into Hell – but the dead rise once again with greater hunger than before.

Continue the alternate history of Zombie Army Trilogy in huge new levels, and uncover a sinister plan that takes the Survivor Brigade across Italy and beyond. Experience genre-defining ballistics, build the slayer that suits you and harness the power of fire, lightning and divine essence as you upgrade your guns to fight back against the dead. When the horde surrounds you, tear them apart with enhanced melee combat and flesh-rending takedown moves.

The Nintendo Switch version will also include all of the Season Pass One content – giving players three additional levels, four character packs, nine weapon bundles, five weapon skin packs and four character outfit bundles. This pack will also be made free to players on all other platforms from Feb. 10.

Zombie Army 4: Dead War features:

A harrowing story campaign teeming with ghastly terrors and demonic monstrosities. Hunt the dead on your own, or fight alongside your friends in drop-in, drop-out co-op for up to four players.
Huge maps across Southern Europe and beyond. Creep across corpse-riddled Venetian canals. Negotiate a grotesque zombie zoo where all hell has broken loose. Survive a towering volcano overflowing with molten despair.
Deep progression and customization. Rank up through 100 levels and unlock dozens of powerful skills, special attacks, weapon upgrades and more. Supercharge your arsenal with incredible elemental damage. Stun hordes into shock with electrified bullets. Harness the might of divine devastation.
Gorge on Rebellion's trademark X-ray Kill Cam – now enhanced for the undead and including gruesome trap, melee and explosive kills.
Bigger, Deadlier Horde Mode. The longer you survive, the bigger the map gets. How long can you fight back before joining the horde of the living dead? Nintendo Switch version includes every post-release Horde map on the game card.
Take a look at a trailer for Zombie Army 4: Dead War below.
Leave a Reply