BadLand Games donating 75% of their share from Axiom Verge sales to healthcare for creator's son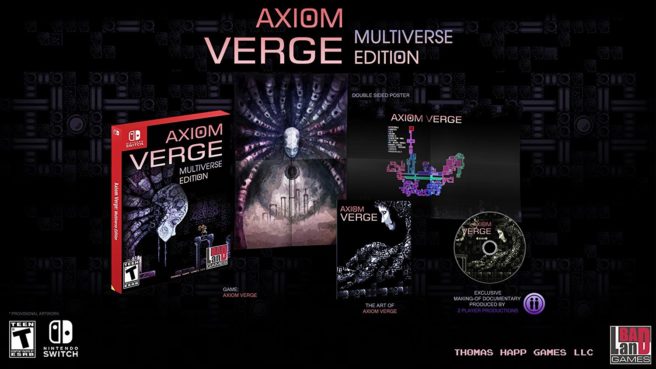 The physical version of Axiom Verge launches on Switch and other platforms today. Creator Tom Happ teamed up with BadLand Games to make that possible.
We didn't know about this previously, but BadLand Games will be donating 75% of its share to a special fund that will help cover the healthcare costs for Happ's son, Alastair. It's with a heavy heart that we say doctors failed to treat Alastair with a routine case of jaundice when he was just days old. This sadly left him with Kernicterus that severely impacts his motor control and hearing.
Happ says BadLand "didn't want to publicize it, since none of us wanted to be seen as trying to use my son's suffering as a marketing tool for the game." Still, this is an admirable move on BadLand's part.
Happ wrote the following on the Axiom Verge website today:
"Before I go, I'd just like to take a moment and give a special shout out to the publisher, BadLand Games. As you may have seen elsewhere on my blog and Twitter, I've tried to be pretty open about my son Alastair's health situation. In short, he was born healthy, but the doctors failed to treat a routine case of jaundice during a critical period when he was just days old. The result was a life-long condition called Kernicterus that is characterized by severe neurological damage which robbed Alastair of much of his motor control and hearing. The reason I mention this is that after we decided to move forward with BadLand Games as the publisher, they offered to donate 75% of their share to a special fund dedicated to Alastair's ongoing health care costs. They didn't want to publicize it, since none of us wanted to be seen as trying to use my son's suffering as a marketing tool for the game. I hope this doesn't come off that way. I just wanted to thank them for their generosity in offering that up, since it was definitely something they didn't have to do."
Leave a Reply