Famitsu's most wanted games (2/26/17)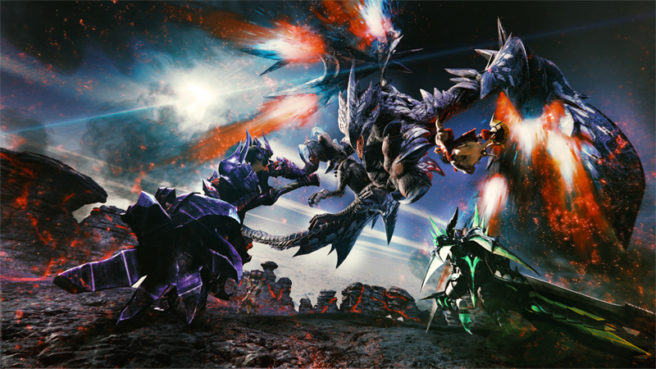 It's time for the latest Famitsu's most wanted games chart. Zelda: Breath of the Wild on Switch is now in the top five, Splatoon 2 and Fire Emblem Echoes move up several spots, and Dragon Quest XI for Switch plus Xenoblade Chronicles 2 make their first appearances.
Head past the break for the full chart. All votes were cast between February 2 and February 8.
1. [PS4] Dragon Quest XI – 949 votes
2. [3DS] Monster Hunter XX – 702 votes
3. [PS4] Final Fantasy VII – 676 votes
4. [3DS] Dragon Quest XI – 594 votes
5. [SWI] Zelda: Breath of the Wild – 490 votes
6. [PS4] Musou Stars – 360 votes
7. [PS4] Kingdom Hearts III – 342 votes
8. [SWI] Splatoon 2 – 262 votes
9. [3DS] Fire Emblem Echoes – 249 votes
10. [PS4] Horizon Zero Dawn – 236 votes
11. [3DS] The Alliance Alive – 210 votes
12. [PS4] Blue Reflection – 209 votes
13. [PS4] Final Fantasy XII: The Zodiac Age – 207 votes
14. [WIU] Zelda: Breath of the Wild – 206 votes
15. [3DS] The Snack World – 204 votes
16. [SWI] Super Mario Odyssey – 201 votes
17. [PS4] New Hot Shots Golf – 200 votes
18. [PS4] Senran Kagura: Peach Beach Splash – 197 votes
19. [PS4] Tekken 7 – 177 votes
20. [PS4] Ace Combat 7 – 176 votes
21. [PS4] Gran Turismo Sport – 159 votes
22. [PS4] The Legend of Heroes: Trails of Cold Steel III – 142 votes
23. [SWI] Mario Kart 8 Deluxe – 138 votes
24. [3DS] Pikmin – 116 votes
25. [3DS] The Great Ace Attorney 2 – 106 votes
26. [PSV] Dungeon Travelers 2-2 – 105 votes
27. [PS4] Ys VIII – 102 votes
28. [3DS] Lady Layton – 99 votes
29. [SWI] Dragon Quest XI – 97 votes
30. [SWI] Xenoblade Chronicles 2 – 90 votes
Leave a Reply