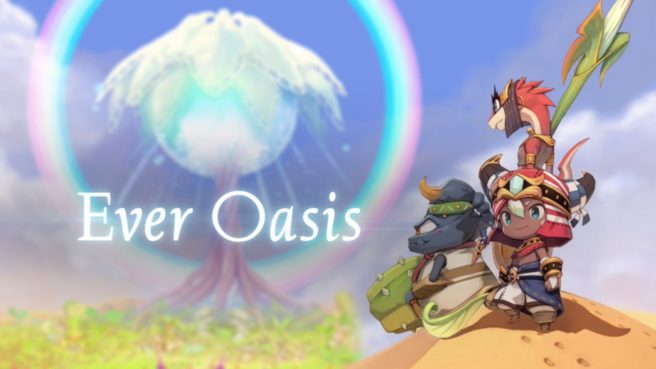 Yesterday, Nintendo teased the reveal of a new RPG IP for 3DS. The company has now announced Ever Oasis, developed by Grezzo (Ocarina of Time 3D, Majora's Mask 3D). We'll have more details shortly.
Here's a trailer:
We'll round up information from the Treehouse below.
– Takes place in the desert
– Main character is the leader of the oasis
– Many challenges in the oasis
– You'll encounter different tribes
– Build shops, then keep it stocked
– Stock up shops with the game's currency, and then the shops sell the inventory and you collect money from wanderers who come into the oasis
– Make your own party
– Characters have their own special ability
– Main character Tethu, who can be male/female, has a wind ability known as Green Gale
– This can be used in puzzle-solving
– Tethu: chosen seedling
– Switch between characters to solve puzzles
– Miura and Roto are other characters
– Synthesize to create and grow weapons/equipment
– Can dodge attacks
– Those who are at the oasis will give you sidequests
– Get new party members this way
– Roto is able to become a pellet, move into areas others can't
– Ability for lock-on for enemy attacks
– Characters may be stronger against different types of enemies
– Starts out with your brother showing you how to make an oasis
– Chaos kidnaps him and also turns creatures into monsters
– Defeat these creatures and they'll be restored
– Inn included at the oasis
– Save points
– Day/night mechanics
– When sun sets, can't stock the shop anymore
– In the night, when you wander in the desert, enemies are a bit tougher and scarier
– Collecting is very important in the game; collect berries and other items
– Can grow plants
Ever Oasis launches next year on 3DS.
Leave a Reply