Nintendo shares first details about new Miitomo update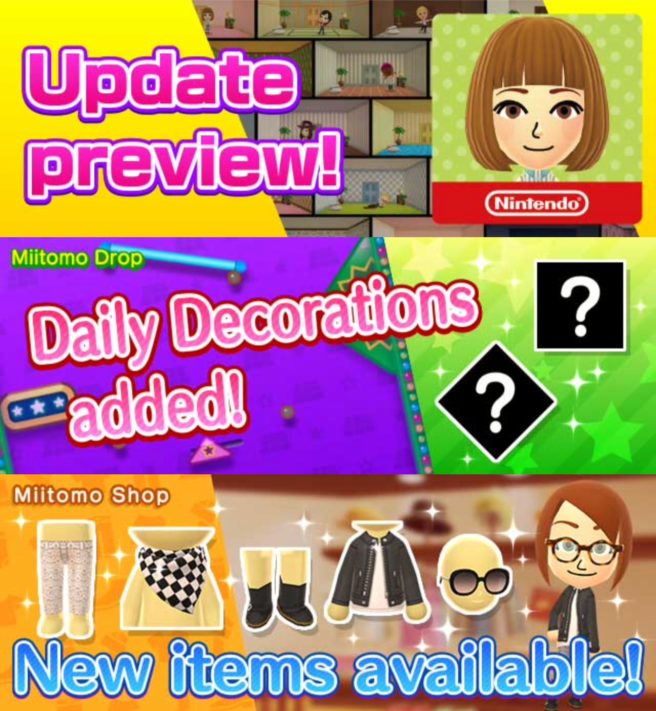 There's a lot going on with Miitomo right now. Nintendo just began a collaboration with Fire Emblem Heroes today, and first details were shared about an upcoming update.
Here's what you can look forward to from the next patch, which is "coming soon":
– A "Miifoto Log" feature, where you'll be able to post Miifotos or images from your device with comments.
– The ability to attach images to your answers.
– The addition of a customizable Bio in your Profile.
– When sending a friend request, you'll be able to attach a message.
– Wallpaper or flooring will be available for use as backgrounds in Miifotos.
– You'll be able to select the outfit your Mii character wears when delivering a message.
– Daily items will not include selectable color variations.
– Other various system improvements.
Nintendo also added in new items to Miitomo Drop's Daily Decorations. The lineup is as follows:
– Oversized sunglasses
– Simple biker jacket
– Lace pants
– Mid-calf engineer boots
– Checkered bandana
Finally, these items are now available:
– Kitschy fruit wallpaper
– Colored stripes (orange)
– Colored stripes (gray)
– Polka dots (white)
– Polka dots (black)
– Japanese shoji doors
– Fancy starry sky
– Ash flooring + Holstein rug
– Sycamore flooring + cloisonne rug
– Checkered carpeting (purple)
Leave a Reply