Phoenix Wright: Ace Attorney – Spirit of Justice character profiles: Trucy Wright and Bonny de Famme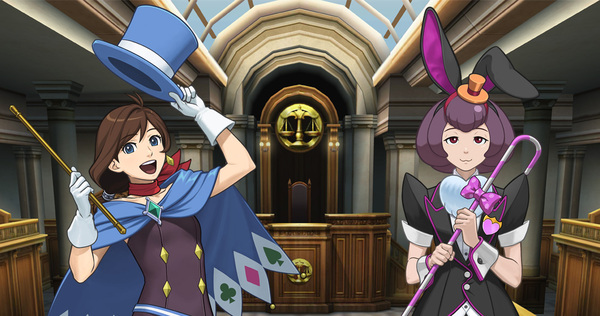 Capcom has shared another two character profiles for Phoenix Wright: Ace Attorney – Spirit of Justice. Today, we're able to learn a bit more about Trucy Wright and Bonny de Famme.
Head past the break for the full rundown on both characters.
Trucy

When we first meet Trucy during the events of Apollo Justice: Ace Attorney, Trucy used her illusions and tricks to keep the Wright Talent Agency (formerly the Wright & Co. Law Offices) afloat during challenging times. While Phoenix played the piano (poorly) at the Borsht Bowl Club, Trucy was busy putting on magic shows at the Wonder Bar. At least some of Trucy's natural talent can be traced back to her being the sole heir to the legacy of Troupe Gramarye, a well-known troupe of magicians who disbanded under unfortunate circumstances.

When Apollo joined the Wright Talent Agency, Trucy immediately billed "Polly" as her magician's assistant (despite Trucy helping Apollo through a number of investigations and court trials), and the two have worked closely together ever since. While Apollo may protest being the centerpiece of Trucy's more dangerous illusions, it seems like there's a strong bond between the two of them.

When we catch up with Trucy in Spirit of Justice, she's finally realized her life-long dream and has been preparing to open her first major magic show: Trucy in Gramarye-Land! Full of the sorts of amazing tricks and dazzling illusions that the Gramarye name is known for, Trucy has been practicing day and night for weeks to debut her show, all while continuing her studies by day in high school. Unfortunately, disaster strikes when a routine sword trick ends with the motionless body of Mr. Reus, one of the performers in the show, tumbling out of a coffin in front of a live audience! Things look grim for Trucy, but perhaps the Wright Anything Agency can work their own magic to prove what really happened. Luckily, Trucy's stage assistant, Bonny de Famme, is ready to help!

Bonny

A fledgling magician in her own right, Bonny is both Trucy's assistant as well as one of her biggest fans, hopping at the chance to talk about Trucy's illusions and how big of an influence she's been on Bonny's own magic. She seems genuinely excited about being a part of Trucy's big debut, and would do anything to help out her idol on or off the stage.

As if her adorable bunny motif wasn't enough, she also has a particularly spectacular trick in her repertoire; she's able to teleport from one spot to another! This magician is already well on her way to stardom thanks to her illusions and sharing the stage with Trucy. A magician never shares her secrets, of course, but Bonny's tricks certainly make you curious, and being present during the on-stage disaster makes her an important witness in Trucy's trial. Even so, could this bunny be hiding secrets deeper than her magic and illusions? You'll just have to play Spirit of Justice to see for yourself!

We've just about wrapped up our character profiles, but we have one last character to talk about next time, and her favorite hobby – scientifically speaking, of course. Ema Skye is up next on Thursday! Don't forget, Phoenix Wright: Ace Attorney – Spirit of Justice is just around the corner, and will be available on the Nintendo 3DS eShop September 8th, 2016!
Leave a Reply