Soraya Saga retweets Nintendo Direct news; "X" on the presentation?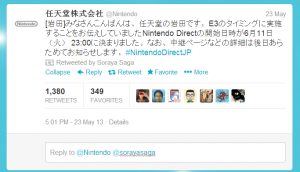 Soraya Saga recently retweeted Nintendo's Japanese E3 Nintendo Direct message. For those who are unaware, Saga is Tetsuya Takahashi's wife – one of the leading staffers on "X".
The last time Saga retweeted Nintendo Direct news, "X" made its first appearance – that was at the end of the January presentation. Could the anticipated Wii U game be appearing on the upcoming broadcast?
Leave a Reply