Super Mario Run releasing in approximately 150 countries for iOS in December, approach to pricing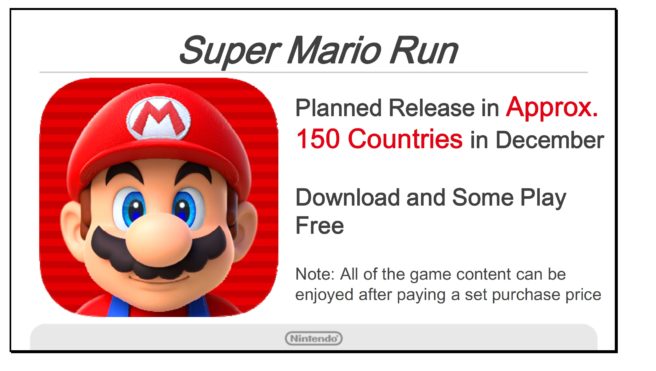 This information comes from Nintendo president Tatsumi Kimishima…
In September this year, we announced Super Mario Run, a new action game featuring Mario optimized for
smart devices and playable with one hand. This game is set to launch globally in December.

The Super Mario action games have been well-loved by fans all over the world, and we hope to reach even more fans across the world through Super Mario Run. We have been informed that over 20 million people have already signed up to receive notifications for the release of this title.

Previously, we announced that we would be releasing Super Mario Run in more than 100 countries, but we can now say that we plan to release this title in approximately 150 countries for iPhone and iPad in December. Although we have not announced the release timing yet, we are also developing an Android version. Downloading Super Mario Run will be free, as will some of the play elements. All of the game content will be enjoyable after paying a set purchase price. With our current plan, once a set purchase price is paid, consumers can repeatedly play the game without worrying about additional fees required. So, children can also play it with peace of mind. We will announce further details, including pricing, at a later date.
Leave a Reply