Terraformars Manga gets a 3DS game next spring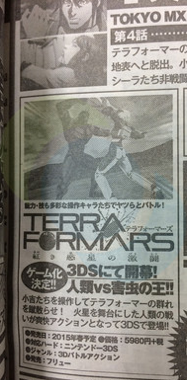 The 46th issue of Shueisha's Weekly Young Jump magazine is announcing that Yu Sausuga and Kenichi Tachibana's manga Terraformars manga has inspired a new 3DS game that will be releasing in Japan next spring.
FuRyu (Unchained Blades, Exstetra, Hamatora: Look at Smoking World, To Love-Ru Darkness: Battle Ecstasy, The Legend of Legacy) will be developing the tittle under the name Terraformars: Akaki Hoshi no Gekit? (Fierce Battle on the Crimson Planet).
In the game control Sh?kichi and the other humans as they fight the Terraformar swarms on Mars.
The game will cost 5,980 yen (approximately $55 USD).
Leave a Reply