Treachery In Beatdown City confirmed for Switch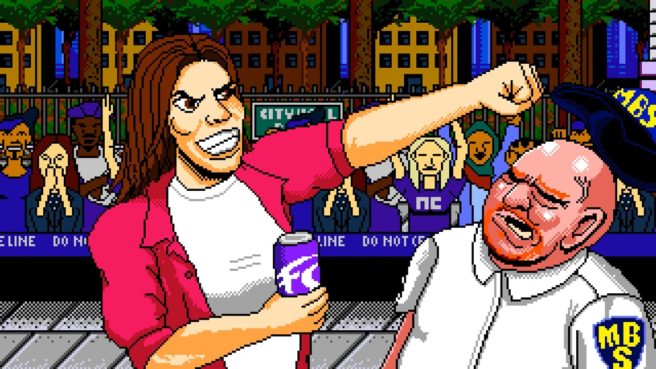 Several months ago, Nuchallenger expressed interest in bringing Treachery In Beatdown City to Switch. That has now been made official with a new trailer published today.
Treachery In Beatdown City, a mix of beat'em up, tactics, wrestling, and RPG, will launch later this year. We have an overview for the game below plus the latest trailer.
The beat 'em up/tactics/RPG of your dreams! Treachery in Beatdown City is a dark comedy action thriller focused on giving players the freedom to fight how they want against an increasingly ridiculous cast of enemies. The US President Blake Orama has been kidnapped by Ninja Dragon Terrorists! Take to the streets with 3 unique fighters – Lisa, the Boxing/MMA expert, Brad, a pro-wrestler with a love of fire, and Jeet Kune Do/Capoeira fighter Bruce. Use an all new tactical-brawling system to fight through hoards of thugs, drunks, disorderly cyclists, joggers, grapplers, punks, ninjas, terrorists, ninja terrorists, cyborgs and MORE on their pursuit to save the president!
History

Treachery in Beatdown City is a game about a ridiculous vision of a dystopian future, that went from being a passion side project while working AAA development jobs to being kickstarter funded. Years later, it is close to launch under similarly bleak and dour times. The years of development have helped the design and humor in Treachery in Beatdown City to grow, and create a dark comedy game intent on punching up at the forces of evil!

Features

Switch on the fly between 3 fighters – an MMA fighter and Boxer, a Jeet Kune Do/Capoeira specialist, and a professional wrestler.
Use a mix of real time and tactical COMBO MENU based attacks to tackle your foes!
Fight over 60 class based enemies, with a health based behavior system built to keep players on their toes!
Music by Inverse Phase, creator of such albums as Pretty Eight Machine and the Chipping of Isaac
Choose from dozens of attacks to create long chains of strike combos, grapple combos, grappl-ombos and more!
Leave a Reply