4 reasons why Nintendo's October conferences kicked the crap out of E3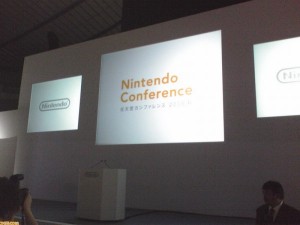 The future is anything but bleak as far as Nintendo gaming goes. Wii and DS owners can look forward to The Conduit, Punch-Out, Sin and Punishment 2, Fire Emblem: Shadow Dragon, and a few dozen other titles over the next few months. After E3, however, the months ahead did not look so bright. Even though E3 was no longer the beast it used to be, and in spite of the fact that the summit has lost much of the glory and flare that it's been known for, hardcore gamers had very high expectations in terms of Nintendo's conference. Regrettably, the company's entire event was, more or less, a big letdown. It wasn't until this October, with two separate conferences in Japan and North America that Nintendo was redeemed in the eyes of their fans. The company had a complete turnaround and more than made up for their mistakes at E3. Below are just a few of the reasons that Nintendo's October conferences, well, to put it bluntly, kicked the crap out of E3.
Game montages/trailers
Video montages/trailers of Wii and DS titles were pretty much absent from Nintendo's E3 media briefing this year. It is unfortunate that the company largely ignored video content, as visual representation of games could have definitely complimented some of Nintendo's scarce announcements by adding some actual substance to their media presentation. In Japan this month, new trailers of highly anticipated titles such as Monster Hunter 3 and Dragon Quest IX were shown (although in private), while montages of DS and Wii games were on hand as well – both of which included fresh footage of titles. Visual pizzazz is more than appreciated by gamers at conferences to help break up sales-talk monotony and to give fans something to drool over and analyze for a few months while they wait for new products. Please Nintendo: At your next E3 conference, show us game montages or trailers in order to temporarily satiate our gaming appetites.
Focus on the DS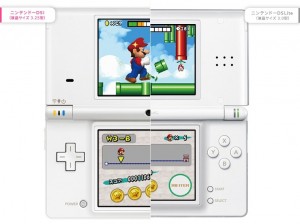 At E3's press conference this year, there were a grand total of…Four DS titles shown. Additionally, only one of those games was an unannounced project. When the scheduled conferences in October rolled by, however, Nintendo took a completely opposite approach than they did in July. Entirely new titles and hardware were featured, much to the delight of the hardcore audience. We got Mario and Luigi 3. We got quirky titles. In North America, we got a release date for Fire Emblem nailed down. We also finally heard word of the DSi, which, with DSWare alone, will surely coax gamers, such as myself, into purchasing yet another handheld iteration. Besides a 2D Metroid, what more could you ask for?
Well-rounded announcements
In a way, the DSi was a predictable announcement following leaked details regarding system features. The information was published on reliable Japanese websites just a few days prior to Nintendo's press conferences. Even so, the big N had a few other surprises in store. Who would have anticipated a follow up to Sin and Punishment? And who could forget the long-awaited reveal of Club Nintendo for North America, in which oodles of exclusive physical and downloadable rewards will surely be up for grabs? In its conferences in North America and Japan, it is undeniable that the decisions to avoid placing concentration in just one area (whether it would be solely on Wii software or one game in particular) and finally release new information for the Wii and DS that gamers care about, were intelligent moves on Nintendo's part. Hardcore gamers were more than disappointed with the company's E3 media briefing, and their concerns were only amplified by what seemed to be standoffish comments from the mouths of Reggie Fils-Aime and Cammie Dunaway. Being able to hear about a Wii storage solution, new hardware, software, release dates, and more certainly softened, if not eliminated, the sour taste and dissatisfaction that E3 left behind.
It wasn't all about Wii Music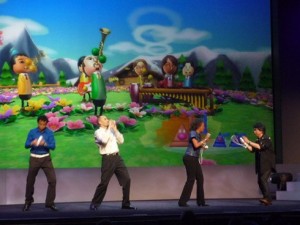 Wii Music is different than your average game, including Wii Sports and Wii Fit. Although it was initially embraced by hardcore gamers in 2006, Wii Music has moved into the "love it or hate it" territory over the past few months. However, even those who are fond of the game probably wouldn't argue that spending more than ten minutes on Wii Music at a highly anticipated event, let alone leaving the title to wrap up a media conference, would be a poor choice. However, that is exactly the path Nintendo chose for E3. To add insult to injury, the moments in which Ravi Drums began pounding air with the Wii controllers like a madman might have been the most embarrassing portion of Nintendo's entire E3 conference. So, when Nintendo gave other titles a chance to shine at the beginning of October, gamers were ecstatic. Nintendo probably would have received a tremendous amount of criticism had they focused on Wii Music to the extent that they did in July. Sure, Wii Music did have a presence at the company's latest conferences, but it was overshadowed by a plethora of other exciting revelations.
Leave a Reply