Fire Emblem Heroes: Event calendar, Tempest Trials+, Heroic Feats bonus period, Tactics Drills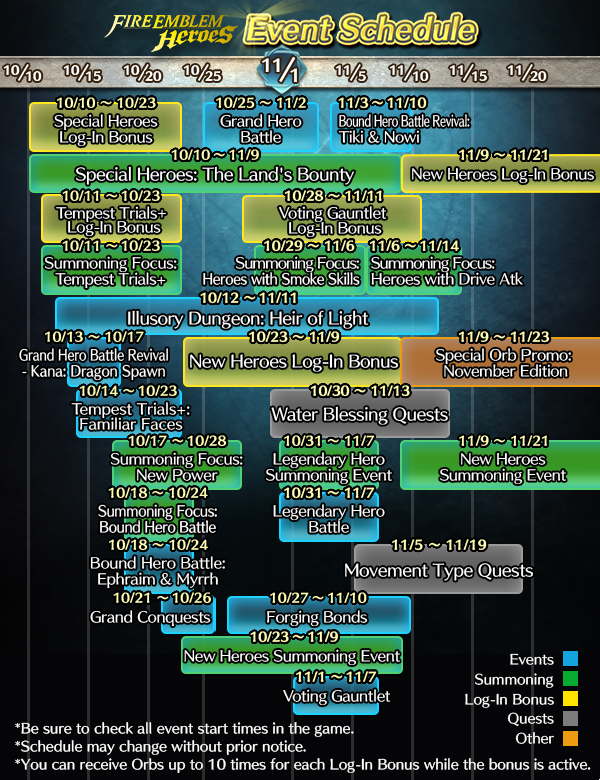 Quite a few Fire Emblem Heroes news updates today. First up, Intelligent Systems published a new event calendar today, detailing what will be happening in-game up until mid-November. You can see the calendar above.
The next Tempest Trials+ event called Familiar Faces will be running from October 14th till October 24th. The major rewards this time are a new Hero, Dorcas: Pumpkin Smasher, and two seals, Brazen Atk/Res 1 and Darting Stance 1. The bonus units this time are Myrrh: Spooky Monster, Kagero: Beverage Ninja, Niles: Forbidden Tease, Mia: Moonlit Witch, Dorcas: Pumpkin Smasher, Myrrh: Great Dragon, Mia: Lady of Blades and Dorcas: Serene Warrior. There's also a log-in bonus until the end of the Tempest Trials+ event, giving you a total of 10 orbs.
The corresponding Summoning Focus for the Tempest Trials+ event is now available. It'll run until October 24th. The focus units are Mia: Lady of Blades, Dorcas: Serene Warrior and Myrrh: Great Dragon.
We have entered the final 24 hours of the first round of the Heroic Feats event. Currently, out of the 10 million needed, Heroes with Fury have been sent into battle collectively by all players 7,677,733 times during the event period. To help players reach the goal, for the final 24 hours of the event, a bonus period has been activated, meaning each time you send a Hero with Fury into battle, it counts double towards the goal of 10 million.
Finally, it's Thursday, which means that Tactics Drills got updated. The new map "Spurred On" can be found in the Grandmaster section.
Leave a Reply