A Tiny Sticker Tale release date set for October, new trailer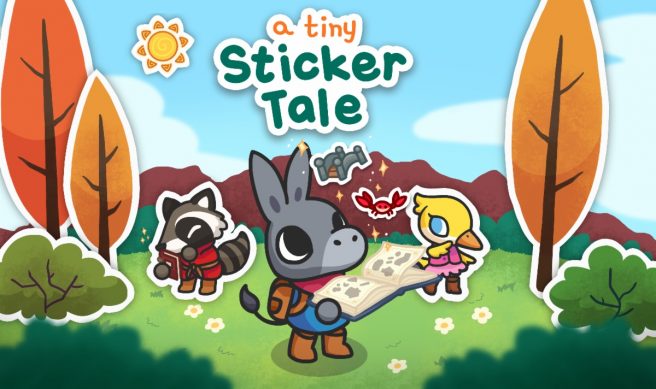 Today, Ogre Pixel revealed a final release date for A Tiny Sticker Tale. The cozy miniature adventure game hits Switch on October 4, 2023.
You may remember that A Tiny Sticker Tale was confirmed for Switch back in June. However, this is the first time we're hearing about launch timing.
Learn more about the title in the following overview:
Step into the tiny boots of Flynn, an adorable donkey searching for their missing father, last seen on the gorgeous Figori island. Long before disappearing, Flynn's father gifted them a curious sticker album. Upon finding a letter advising they travel to Figori island with album in hand, Flynn arrives and discovers another letter explaining the true power of the stickers: when used properly, they can shift reality itself!

Wield the magical album to convert Flynn's surroundings into stickers, then place them around the world to solve inventive puzzles with multiple solutions, help new friends, and even decorate Figori island. Need to cross over a river? Grab a bridge from elsewhere, place it in the sicker album, and drop it where needed. Too dark to see? Borrow the sun and brighten up the area! Experiment by placing stickers wherever possible, including moving other characters around the island to see how they react.

Yet Flynn seems to have a rival of sorts. Rocky, a mischievous Raccoon, has a magical sticker book of his own. Whether he realizes it or not, his actions create obstacles slowing down Flynn's quest. Pursue Rocky and search for Flynn's father, all while filling up the sticker book with cherished memories.

Sit back, relax, and explore gorgeous locales including beaches, forests, swamps, mountains, and deserts all rendered in an inviting art style evocative of children's storybooks. Bask in the island sun to a calming, wistful soundtrack crafted by Game Awards Future Class member Majo Felix.

A Tiny Sticker Tale tells a breezy, two-to-four hour light-hearted yet emotional story about the importance of joy, love, self-confidence, perseverance, and the safety these values offer. Dive into this mini sticker-sized adventure, and discover the special bond that blossoms between Flynn and their trusted sticker book.
Ogre Pixel director and designer Steve Durán said: "In A Tiny Sticker Tale, we really hope to offer relaxation, an emotional journey, and intuitive puzzles that make you smile. As a México-based studio, we're proud to shine a spotlight on the development capabilities of the Latin American community and share our game with the world."
Watch a new release date trailer for A Tiny Sticker Tale below.
Release Date Trailer
A Tiny Sticker Tale can be pre-ordered now on the Switch eShop. Pricing is set at $9.99.
Leave a Reply