A-Train: City Simulator launches next month in North America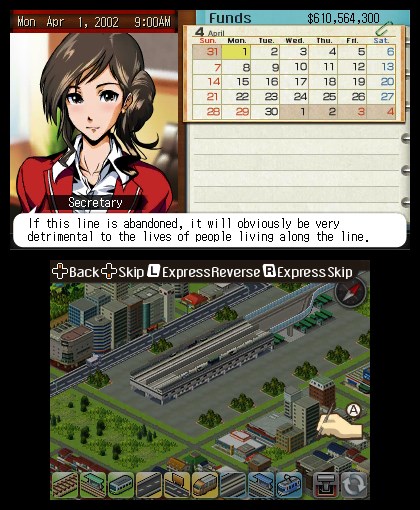 A-Train: City Simulator is due out in North America next month, Natsume announced today. A specific date was not provided.
Additional A-Train: City Simulator content was prepared today as well. You'll find a set of new screenshots and a bunch of details below.
You're the boss! It's up to you to keep cities, towns, and suburbs connected and their transportation smoothly flowing. However, doing so comes with challenges: players will need to balance their budgets, as well as the wants and needs of the people using the systems. Bottlenecks and frustrated citizens must be avoided if the transportation system is going to truly work for the citizens!

As the new head of transportation, players will see real results of their work. They can build new buildings to support additional growth for bus routes and subway services, export goods to make money, and even build an airport! As time passes in-game, players will have the option to upgrade their technology, moving from steam-powered trains to high-powered electric ones!

Enjoy the sights of the city and the transportation methods you choose with a panoramic sweep, or set new goals with a map editor that gives players all the tools needed to craft new scenarios. With hours and hours of variable storylines, fans will find a deep depth of gameplay that's sure to keep them coming back for more!
Source: Natsume PR
Leave a Reply