Air Missions: HIND out today in Europe, next week in North America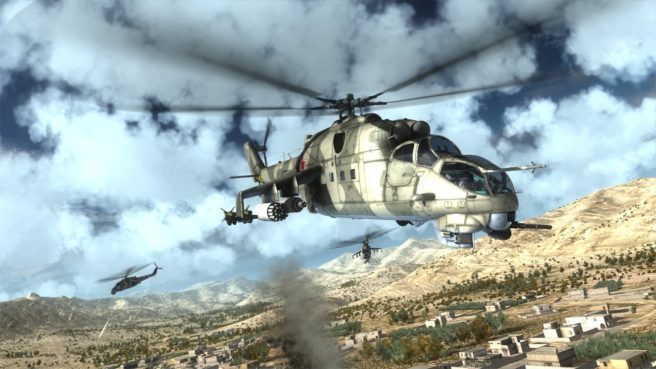 The action combat flight simulator Air Missions: HIND was announced for Switch earlier this year. We now have confirmation that the game drops today in Europe, followed by North America on September 24.
Here's some information about Air Missions: HIND as well as a trailer:
Nintendo Switch players receive three bonus Russian built helicopters to pilot in Air Missions: HIND including the Mi-28 Havok two seater anti-armour attack helicopter, the Mi-8 Hip medium twin-turbine helicopter and the Ka-50 Hokum single-seat attack helicopter.

Features:
– Take control of the Mi-24 assault helicopter, a.k.a the flying tank.
– Campaign mode with fifteen missions based on fictional conflicts.
– Customise and equip your helicopter with an arsenal of missiles, machine guns and rockets.
– Four different environments to master: Central Asia, Eastern Europe, The Arctic Ocean and Southeast Asia.
– Fly combat missions in single and multiplayer modes including Deathmatch, Instant Action and Online Co-op.
– Master three different helicopter control difficulty levels.
– Three bonus Russian built attack helicopters to pilot.
Air Missions: HIND is being sold digitally for Switch via the eShop.
Leave a Reply