Animal Crossing: New Horizons datamine may hint at upcoming features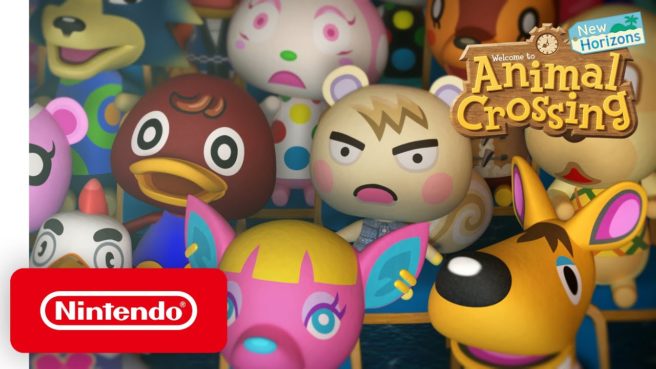 Animal Crossing: New Horizons datamining has already led to the finding of what appears to be the steps for upgrading Nook's Cranny. Ninji, who made that original discovery, today shared another batch of interesting information pertaining to the Switch title.
Ninji has been poking through the files and code for Animal Crossing: New Horizons, which may hint at some upcoming features. We've rounded up the various tidbits below. Of course, if you're not interested in potentially being spoiled in any way, keep that in mind before proceeding.
– There's entries for two extra museum upgrades
– All three levels (after the tent) seem to contain an art section
– There also seems to be two standalone buildings: the museum shop, and the museum cafe (which incorporates a Gyroid section)
– Redd appears to have a ship which will dock on the 'secret beach' at the north of the island
– That particular acre is called Nつねきち internally (つねきち is Redd's Japanese name)
– The 'fake art' mechanic is coming back
– Bushes are coming back: azalea, hibiscus, holly, hydrangea, camellia, osmathus
– Those might change; the list actually changed between 1.0.0 and 1.1.4
– Vegetables that you can grow and pick: tomato, wheat, sugar cane, potato, carrot, pumpkin
– 1.0.0 has a file for a "Seafood" Critterpedia page that's supposed to contain 33 items
– The only one actually in the released game is the manila clam
– There's a 3rd Nook's Cranny referenced, but no details on features or upgrade requirements
– Diving will allow you to obtain fish (a different set from fishing) and seaweed
– There's a portion of the save file reserved to store them already
– Unused shopping interfaces: 'cGardening', 'cMuseum' (possibly museum shop), 'cRealEstate', 'cGallery'
– These might not be full-fledged shops
– This particular system includes Nook Miles redemption, bridge/slope type purchases and Kicks's shoes, for example
– The code that pops up a "select an item" box (to gift a villager, to sell, to swap a fish out for, etc) has a "cTunekichi" (Redd) option – possibly will be able to give him stuff
– There's a function that stores a 'play report' (Nintendo's aggregate stats on game play) with three variants: get_recipe_diy, get_recipe_clothing, get_recipe_cooking
– Only the diy one is actually ever used, so the other two might be in the plans
– Some mentions of stuff here have been removed from 1.1 onwards; the list mentioning 'FlowerBush' and vegetable names has been modified to list 'FlBu, V0, V1, V2, …' instead, one mention of Redd's shop has gone from 'TsunekichiShop' to 'TShop'
– 'TShop' is in what seems to be a list of doors that buildings can have
– Since 1.1 they've added 'WOffice' as well, which isn't actually used yet, but might be something they're working on
– There's a list of types for items where every type is used in the game, except for "Art" and "Dishes" (see below)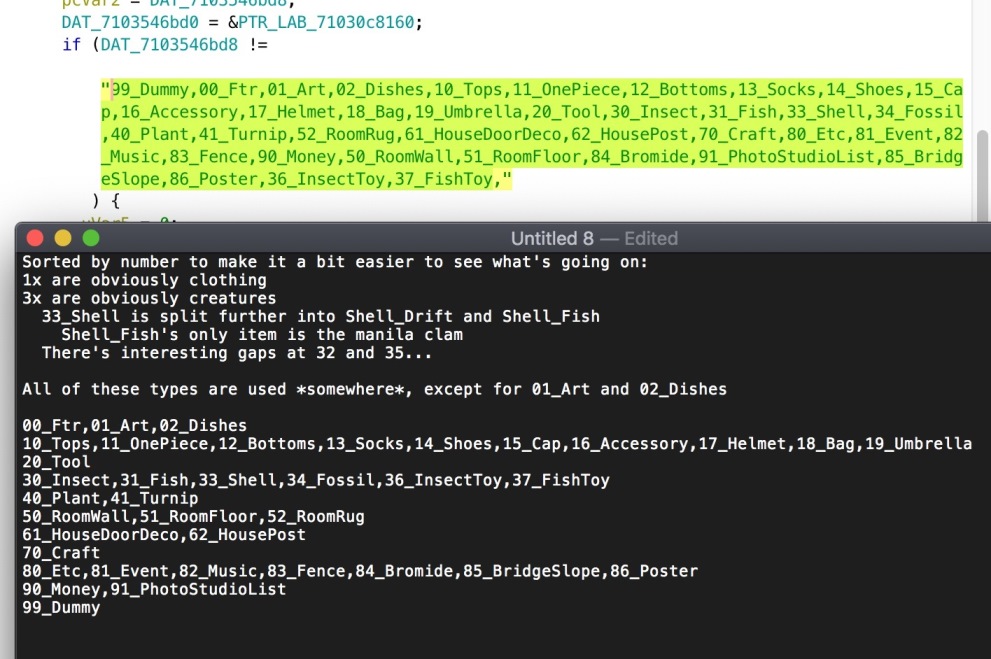 Note that what's presented in today's datamine has not been officially confirmed. Nintendo will continue to roll out news about the game in the months ahead.
Leave a Reply