Animal Crossing: New Horizons – new fish and bugs for May, plus what's leaving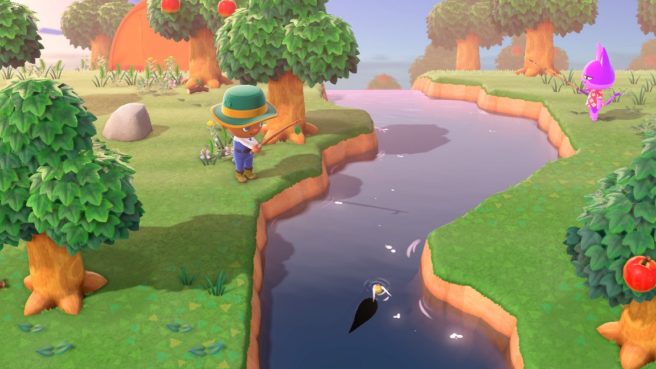 Now that May has rolled in, there are new happenings in Animal Crossing: New Horizons. Aside from May Day, fish and bugs have been cycled through. There are new ones for the month as well as ones that have left the game for the time being.
All of latest fish and bugs updates can be found in the charts below. Just keep in mind that the information applies to the northern hemisphere only.
Animal Crossing: New Horizons – new fish for May
| Animal Crossing Fish | Months available | Times available | Location | Fish Price |
| --- | --- | --- | --- | --- |
| Angelfish | May to November | 4pm to 9am | River | 3000 |
| Betta | May to November | 9am to 4pm | River | 2500 |
| Catfish | May to October | 4pm to 9am | Pond | 800 |
| Frog | May to August | 24 hours | Pond | 120 |
| Giant Trevally | May to October | 24 hours | Pier | 4500 |
| Mahi-Mahi | May to October | 24 hours | Pier | 6000 |
| Nibble Fish | May to September | 9am to 4pm | River | 1500 |
| Rainbowfish | May to November | 9am to 4pm | River | 800 |
Animal Crossing: New Horizons – new bugs for May
Animal Crossing Bugs
Months available
Times available
Location
Bug Price
Banded Dragonfly
May to October
8am to 5pm
Flying around
4500
Diving Bettle
May to September
8am to 7pm
On ponds and rivers
800
Great Purple Emperor
May to August
4am to 7pm
Flying around
3000
Pondskater
May to September
8am to 7pm
On ponds and rivers
130
Queen Alexandra's Birdwing
May to September
8am to 4pm
Flying around
4000
Rosalia Batesi Beetle
May to September
All day
Appears on a tree stump
3000
Scorpion
May to October
7pm to 4am
On the ground
8000
Violin Beetle
May to June
September to November
All day
Appears on tree stumps
450
All Animal Crossing fish leaving at the end of May:
Animal Crossing Fish
Months available
Times available
Location
Fish Price
Golden Trout
March to May
September to November
4pm to 9am
Clifftop river
15000
Loach
March to May
24 hours
River
400
Oarfish
December to May
24 hours
Sea
9000
All Animal Crossing bugs leaving at the end of May:
None
Leave a Reply