Animal Crossing: New Horizons villagers hint at possible return of Brewster and The Roost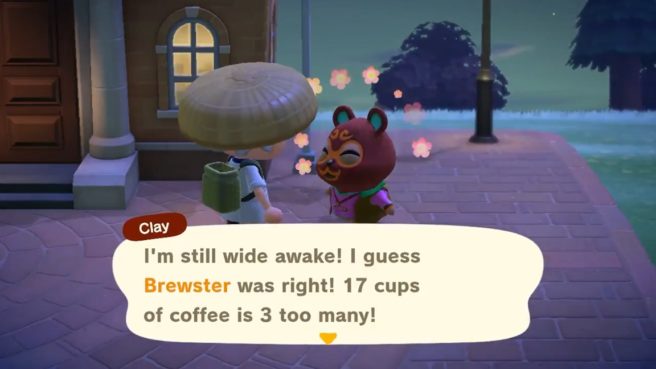 It's been speculated that Animal Crossing: New Horizons could be getting an art wing at the museum after some interesting dialogue was spotted from one of the game's villagers. Now something similar is happening with Brewster and The Roost.
The coffee shop has appeared in previous entries in the series, and was once a part of the museum. In Animal Crossing: New Leaf, it was in its own dedicated location. However, in Animal Crossing: New Horizons, The Roost along with Brewster are no where to be seen.
Could we be seeing them return in the future? Some dialogue has been spotted from New Horizons' villagers, who hint at the possibility.
The first tease comes from Clay:
Brewster was mentioned… #AnimalCrossing #ACNH #NintendoSwitch pic.twitter.com/BgRZr02zcH

— Cheryl 🍙 Isle of le potato (@sliceofcy) April 6, 2020
Another screenshot from Maddie circulating online also mentions: "Imagine, you are at the Roost and no one is there. All you can do is get a drink with Brewster!"
Like the art wing, it's unclear if/when we could be seeing Brewster and The Roost. Assuming it happens, we could be seeing them as part of a future update.
Leave a Reply