Animal Crossing: Pocket Camp version 1.1.0 datamine – villagers, events, and more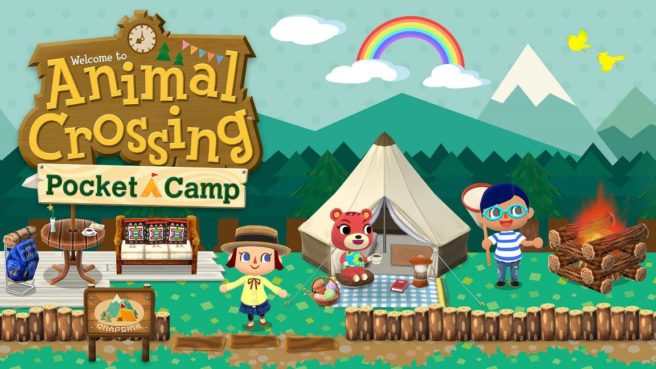 Last weekend, Animal Crossing: Pocket Camp received a new update. Version 1.1.0 was highlighted by a garden area as well as a screenshot mode and share function.
Fans have picked apart the latest update and have gone to work on finding all sorts of information from datamining. A ton of information was discovered pertaining to villagers, events, and more.
You can find a comprehensive breakdown of Animal Crossing: Pocket Camp's update below. All information comes courtesy of SenorDeeebs and bluesun.
Version Codes; 1.0.3 was uF4Av (12/02/2017), 1.1.0 is rV2Va (12/17/2017)
New Load Screen; https://i.imgur.com/1KktuUu.png
Game Adjustments; Game adjustments are made

Added a display for when there are animals in your campsite who want to talk to you.
Adjusted the items and Bells given to you by animals when you talk to them in your campsite.
Added a save point immediately after paying off your loan.
Adjusted the screen display slightly.

New Item Tab; Item tab showing 'cash shop' items and gardening flowers.
Character Customization; Can now change your gender
Friend Invites; Seems you can add people through sending a link


You can invite friends by sending them a link.

You received an invite!

Will you be my friend in Animal Crossing: Pocket Camp?

Make sure you have the latest version of Animal Crossing: Pocket Camp before you open this link!

Remember: This invite expires in 14 days.

Duplicate Crafting Warning; There seems to be a text string added as well, warning players of crafting duplicates, or crafting something that's already being crafted.


Duplicate Item

You already have this item.

Do you still want to craft it?

Item Already Being Crafted

This item is being crafted right now!

Do you want to craft another one?

New stretch goals?; It seems there may be new stretch goals added as well, or to be activated in the future.


Catch a rare creature.

Catch "x" rare creatures.

Harvest

Harvest flowers "x" times.

Water some flowers.

Water flowers "x" times.

Cross-pollinate flowers.

Cross-pollinate flowers "x" times.

Share a rare creature you caught with a friend.

Share a rare creature with a friend "x" times.

Craft a piece of clothing.

Craft "x" pieces of clothing.

New Catalog Item "Obtain Hints"; Seems that with new items added to the catalog, there are new hints in regards to how to obtain them. Could fishes/insects possible be added to the catalog?


You can buy seeds from Lloid in the garden.

You can get rare seeds by cross- pollinating flowers.

You can find this fish at Saltwater Shores.

You can find this fish at Lost Lure Creek.

You can catch this bug on Sunburst Island.

Not sold

You can get this by trading with Lloid in the garden.

Gardening; Further content for Gardening was added. A large amount of assets, regarding flowers + bugs within gardening itself, as well as furniture rewards and more! Seems there's a level requirement for the garden as well.


Well, well. You've stumbled across my little garden plot a little earlier than I expected.

Would you mind coming back when you've reached level ? I'll surely be ready for you by then.

Garden Species; 4 Garden Species have been listed. These are 4 butterflies. These seem to be tied in with "Rover's event" that's listed below. More information will be there. https://imgur.com/a/eQS7R
Flowers; 20 species of flowers have been shown, alongside their seeds. 17 are normally grown, while 3 are for "Rover's event". https://imgur.com/a/28Gkm
Garden Reward Furniture; There are multiple reward furnitures listed, which are attained by crafting tulips/pansies and exchanging them for these various pieces. 17 Pansy & Tulip Chairs, Tables, Fences, Teddy Bears, Potted Plants, and T-Shirts, as well as https://imgur.com/a/3f81D

New Tutorials; 3 new tutorials have been added in, to go alongside the new content


Growing Flowers

It all starts when you plant your seeds in an open space. Give them time and water, and they will grow!

Keep the ground wet and fertile—if you let things dry up, your plants will wilt.

When the flowers are in full bloom, you can harvest them and trade them to Lloid for a variety of items!

To take a screenshot, tap the Take Shot button.

Cross-Pollination

You can cross-pollinate regular flowers with other flowers of the same type.

If the cross-pollination is successful, you'll get new seeds. Some of them might even be for rare flowers!

Try cross-pollinating in your friends' gardens, too! Be on the lookout for gardens with rare flowers.

Getting Help from Lloid

You can buy flower seeds from Lloid in your garden. Lloid's always happy to trade you various items for flowers that you have harvested.

Use Leaf Tickets to get flower food from Lloid. Sprinkle it on, and your flowers will take less time to bloom.

New Content; An abundance of new content has been added, ranging from new villagers, events, content, and much more to come to in the future.

NOTE With everything datamined, it's possible some things can be inaccurate, as we're working with what info we can gather. This can very well said to be 90% accurate, moreso in terms of specifications regarding the events.

---

---

New Villagers; 4 new villagers have been added, Ava, Boots, Sprinkle, & Static, alongside their portraits. https://imgur.com/a/Au1Bg
New Banners; New banners have surfaced. https://imgur.com/a/sSmCp
New Furniture; New furniture found in the files. https://imgur.com/a/Z42W5
New Clothing; New clothing found. These 3 are for the new villagers. Sprinkle's shirt is not mentioned as they will be wearing a shirt that already exists in the game. The Icy Knight Sweater. https://imgur.com/a/f2PK7
New Essences; Text strings have appeared labelling new essences for, hip, harmonious, civic, elegant, modern, and historical. No images regarding them as of yet.
Clothing Crafting; All clothes listed here will be the craftable clothes. They will require varying amounts of cotton, with paper and cute essences required at times as well. https://imgur.com/a/mUeek
Events; A slew of events are mentioned as well. The "schedule" will be listed down below, with explanations on what's known so far regarding some events. No dates for when these events will occur are in the files. That's up to Nintendo to decide.

2003 special furniture (October 25th)
2010 holiday 2017 (November 30th)
2013 Event Challenge (November 30th)
2021 Host the Most (December 5th)
2022 Friend Frenzy (December 11th)
2030 New Year's 2018
2033 Event Challenge
2041 Host the Most
2050 Rover
2053 Event Challenge
2060 OK Motors
2062 Host the Most
2070 winter sports
2073 Event Challenge
2074 Trial Challenge
2075 Trial Challenge
2080 seasonal item

Rover; Rover's Garden Safari seems to be a new event coming. (Yes, that silhouetted character was indeed Rover himself, for an event!). From the looks of it, you'll want to plant and grow the 3 variations of dahlias (red/white/blue) to try and attract the 4 species of butterflies. You then want to catch these to exchange them for exclusive furniture. The butterfly images can be seen above in Garden Species. These are the other assets pertaining to the event. https://imgur.com/a/sGV8T
OK Motors; OK Motors seems to either be having an event as well, or a new addition in the future. A slot machine is being added down the road. It requires Friend Powders to play, and you're awarded medals based on what you roll. These medals can be exchanged for craft materials + essences, and there also appears to be some furniture + clothing that can be earned as well. https://imgur.com/a/iOXEZ
Host the Most (#3); This seems to be the Host the Most event for the wave of 4 animals added in with this update.
winter sports; Not much is known about this aside from the fact that there is a material that can be collected, snowflakes. It may hold the same structure as the Christmas (and upcoming) New Years event, where you do quarries + requests for the material, and use it to craft various furnitures, as well as get clothing. There's also an amenity featured in it that can be crafted with snowflakes, with it having only a Lv. 1 and Lv. 2 to it. Seems to be purely aesthetic. https://imgur.com/a/EXnJM
seasonal item; Not much is known, aside speculating future possible seasonal items.
Leave a Reply