Another World and Flashback physical collection to release in November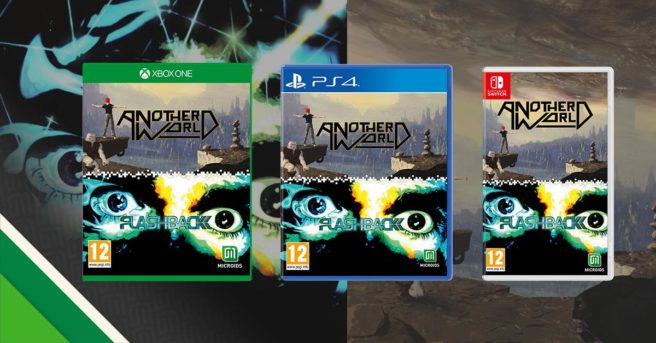 Another World and Flashback are getting a two-pack physical collection, Microids announced today. It will be available starting November 21.
Here's an overview of the two titles:
Another World
Also known as Out Of This World, Another World is a pioneer action/platformer that released across more than a dozen platforms since its debut in 1991. Along the years, Another World™ has attained cult status among critics and sophisticated gamers alike.

Another World chronicles the story of Lester Knight Chaykin a young scientist hurtled through space and time by a nuclear experiment that goes wrong. In an alien and inhospitable world, you will have to dodge, outwit, and overcome the host of alien monsters, while surviving an environment as deadly as your enemies. Only a perfect blend of logic and skill will get you past the deadly obstacles that lie in wait.

Key Features:
Remastered presentation: a joint effort between visionary game-designer Eric Chahi and developer DotEmu, Another World is back in its 20th Anniversary Edition with High Definition graphics faithful to the original design.
3 difficulty modes: Normal (easier than original game), Difficult (Equal to original game) and Hardcore (more difficult than original game)
A new immersive experience: rediscover a cult adventure with 100% remastered sounds and FX
Social features: Steamworks™ integration with 13 achievements.
Extra features: development diary, making of video, technical handbook
Flashback
2142. After fleeing from a space ship but stripped of all memory, the young scientist Conrad B. Hart awakens on Titan, a colonised moon of the planet Saturn. His enemies and kidnappers are snapping at his heels. He must find a way back to Earth, defending himself against the dangers he encounters and unravelling an insidious extra-terrestrial plot that threatens the planet…

On its 25th anniversary, rediscover this classic, consistently ranked among the best 100 games of all time! It was one of the first games to use motion capture technology for more realistic animations, with backgrounds that were entirely hand-drawn and a gripping science-fiction storyline.

In addition to the original 1993 game, this version includes a Modern mode, with:

– Post-FX graphic filters,
– Completely remastered sound and music,
– A brand new "Rewind" function, variable according to the level of difficulty
– Tutorials for those who need a boost!
Leave a Reply