Astrodogs secures April release date on Switch, new trailer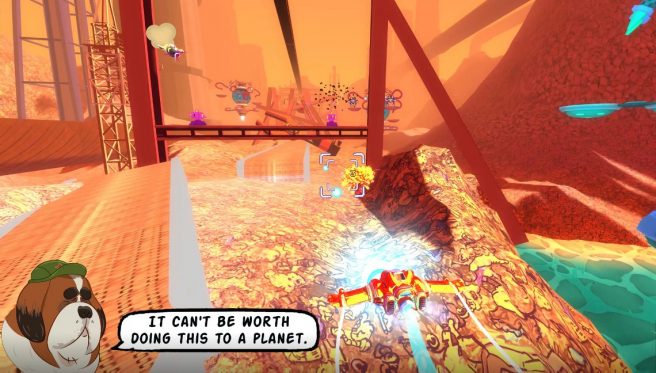 It's taken a bit longer than expected, but Astrodogs now has a final release date on Switch.
The Star Fox 64-inspired shoot 'em up title was announced for Switch back in 2020. The game landed on PC last year, and for the Switch edition, there'll be some additions and improvements. Dynamic Media Triad has implemented optional gyro controls, rebalanced levels, features like a level select and checkpoints before boss fights, an alternate way to unlock the true ending path, and more.
Here's some information about the game:
Story

Everything seemed to be in its place across the Galaxy until one day WOOFER, a giant corporation providing all sorts of services, went rogue and began attacking planets all over the System.

Enter Astrodogs, a crew of freelance bounty hunters and possibly our only hope to defeat WOOFER. Play as Kombo, the Shiba Ace Pilot and join the crew in this adventure through the stars to save all of puppydom.

Find out the mysterious reasons behind Woofer's treason as you discover the secrets they definitely don't want you to know!

Game

Battle WOOFER's army through 10 beautiful levels made with replayability in mind.

Featuring a wide arsenal of weapons like remote controlled bombs, homing missiles, hyperbeam and parry-shield. It also has "Slow-Mo" mechanics that are sure to make every moment of the game a lot of fun.

Fast-paced action!
– Choose between 4 different Special Weapons to deal with enemy groups!
– Use your Instinct to slow down time and aim perfectly!
– Roll like a barrel to deflect bullets back to your enemies!
– An immersive and exciting original soundtrack to get you ready for action!

A whole Galaxy to discover!
– Explore beautiful, varied environments as you travel through the Galaxy!
– Discover the secrets behind Woofer's invasion!
– Unlock colors and skins for your ship by playing the game!

An awesome Cast!
– Hand-drawn characters oozing personality and dogginess.
– An evil cast of villains with unique mechs and battleships waiting to fight you!
– The Best Vibes
Along with the release date news, Astrodogs has received a new trailer. Give it a look below.
Astrodogs will launch digitally for Switch on April 8, 2022.
Leave a Reply