Atelier Ryza will have a Digital Deluxe Edition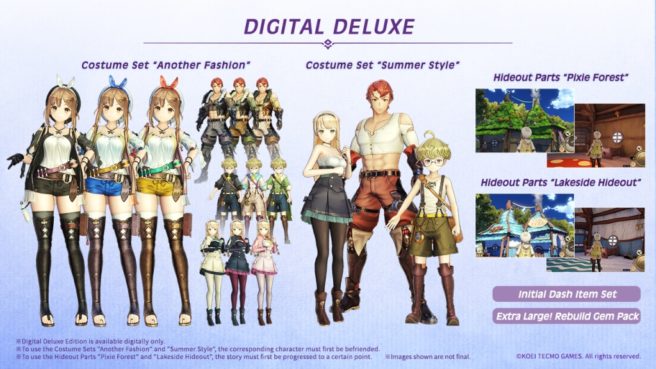 Koei Tecmo and Gust have detailed a new Digital Deluxe Edition for Atelier Ryza: Ever Darkness & the Secret Hideout.
Those who buy the game will receive costume sets "Another Fashion" and "Summer Style", featuring 15 new clothing options from Lent's Gothic Wolf look to Tao's Island Explorer gear. Players will also be given "Pixie Forest" and "Lakeside Hideout" items that can be used in remodeling their secret hideouts. They offer special effects like raising certain allies' abilities during the rain.
Two special gathering items are also planned: special wind shoes to help increase movement speed, and a bigger knapsack to increase item gathering capacity. That's on top of 100,000 gems that can be used for rebuilding.
As one final note, fans who purchase any version of the game before November 12 will receive the early purchase bonus of Ryza's Summer Adventure costume.
Source: Koei Tecmo PR
Leave a Reply