Atomicrops – Invasive Species update out now on Switch (version 1.1.1), patch notes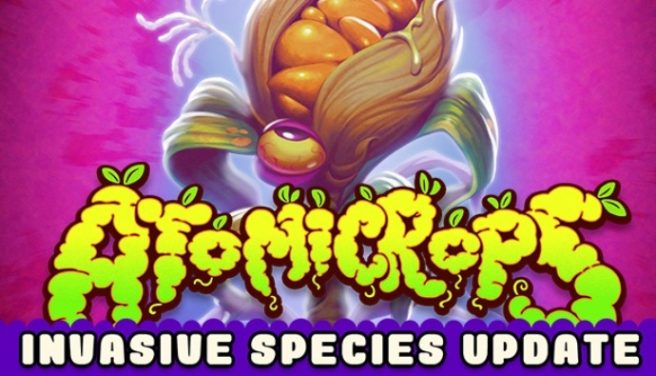 Raw Fury and Bird Bath Games recently started the distribution of Atomicrops' Invasive Species update on consoles, including Switch. The title is now at version 1.1.1.
Invasive Species includes a bunch of new content, changes, balance adjustments, and fixes. For the full patch notes, continue on below.
New Content

New Boss: Unfriendly Worm
New Boss: U.F.B.
New Boss: The Spore You Know
New Boss: Itsy Bitsy
Rare Blood Moon nights with new enemies.
New Alien Ant featuring additional permanent upgrades.
Topiaries – Unlock achievements to gain topiaries on your farmhouse. Topiaries provide permanent bonuses
New Scroll: Blood Spell: Fertilize all crops and all nearby enemies bleed fertilizer.
New Scroll: Cataclysm: Cut hundreds of weeds, damage all enemies, expand farmable land and till soil.
10 New Achievements to put your skills to the test.
Added Mandarin Chinese voice over to intro cinematic when game language is set to Chinese.

Changes

The wall that surrounds your farm on boss nights disables when boss is defeated.
While sowing, if a special seed (heart beet, sunflower, rose etc.) is auto-selected, you must now click/press again to continue sowing. This should reduce accidental sowing of precious seeds.
Expanded the area in which Pigeon Scrolls can be used.
After year 1 slugs shoot at player when there are no planted crops.
Time mushroom popup text now displays how much time is added.
Art – added visual FX when crops die from burning.
Sound – reduced assault rifle's volume by 50%.

Balance

Balance – Increased tree fertilizer requirements – small trees require 12, large trees require 32.
Balance – Butcher's Knife – increased fertilizer drop chance and fertilizer drop amount.
Balance – Improved Jackrabbit – faster reload and damage scales better with Fight Stat.
Balance – Increased Sriracha Soaker fuel capacity.
Balance – Reduced Sriracha Soaker max stacks – less effective against bosses.
Balance – Reduced Cattling Gun's damage bonus from Fight Stat.
Balance – Slightly reduced Cattling Gun's rate of fire mod bonus.
Balance – Reduced Parsniper Rifle's damage bonus from Fight Stat.
Balance – Reduced Parsniper Rifle's Headshot mod crit chance and crit damage bonus.
Balance – Enemies won't spawn until after the boss intro.
Balance – Increased Megaton Tractor damage radius.
Balance – Bundertaker – random bunny holes will periodically spawn.
Balance – Bundertaker – added anticipation before shooting.
Balance – Bundertaker – wider movement range.
Balance – Bundertaker – balanced bunny and bunny hole spawn rates.
Balance – Bundertaker – bullets are faster and more spread out.
Balance – Bundertaker – less enemies spawn.

Bug Fixes

Bug fix – added sound to all gun purchases and seed bag purchases.
Bug fix – Catling Gun will hopefully not break audio anymore.
Bug fix – Beeson level 2 and 3 drop better seeds – they were previously not dropping any seeds.
Bug fix – fixed possible Megaton Tractor mismatch between damage and widget.
Bug fix – fixed sorting issue with fruits on trees.
Bug fix – fix squirrel gun bullets playing sounds every frame when passing through walls.
Bug fix – reduce fertilizer drop from Bramblemancer's bramble patches when fertilizer mushroom is active.
Leave a Reply