Baby Storm getting a physical release on Switch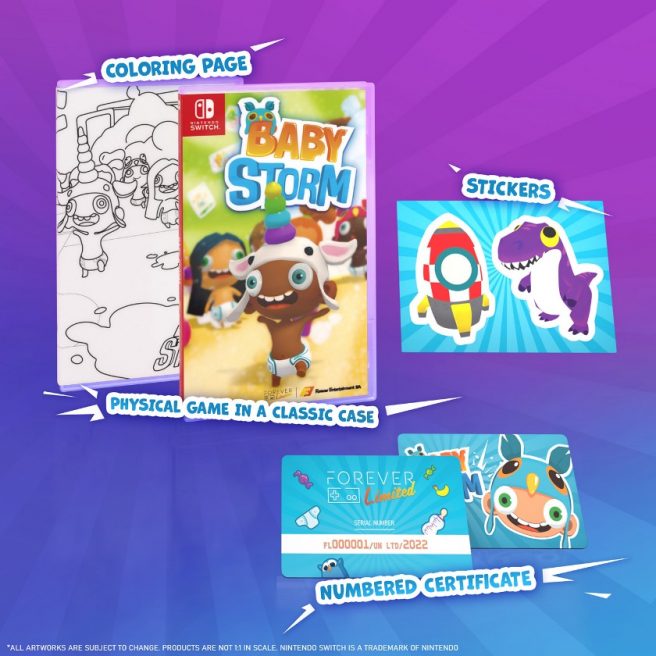 Baby Storm, which was announced for Switch during the most recent Indie World Showcase, has now been confirmed for physical release.
Forever Entertainment has confirmed an "unLimited version" as well as a limited collector's box. Currently we only have information about the former, which includes the game with a coloring page printed on the back side of the case, numbered certificate, stickers, and sealing foil.
We have some information about Baby Storm below.
Maintain order, run, clean and feed your way to the highest score, in solo or local multiplayer mode with up to 4 players!

Your mission is to take care of adorable (and sometimes troublemaking) kids in a kindergarten!

You are equipped with toys for playtime, food for mealtime, wipes, and diapers for you-know-what time, and even a nifty radio-controlled vacuum robot to help you with cleaning. If you're alone in this task, there are useful power-ups: a Teleporter that lets you move around quickly, and Maracas to distract the kids when they are fighting.

Make sure to complete the babies' desires on time to avoid making them cry which will reset your score combo! A quick tip: these kids might act tough, but they just need a bit of love and hugs. Just steer clear of the ones who bite!

Your journey will bring you to many different environments with vibrant art and music – visit places all around the world and even time travel! Make your way through clever and original levels, earn loads of points, unlock new stages and features, and encounter special babies with mysterious powers…

Should you succeed in your mission, you'll become the best babysitter in the universe!
Baby Storm launches digitally for Switch on January 21. The physical version will ship at a later date, and you can only pre-order the unLimited version here at the moment.
Leave a Reply