Banjo Kazooie coming to Nintendo Switch Online + Expansion Pass next month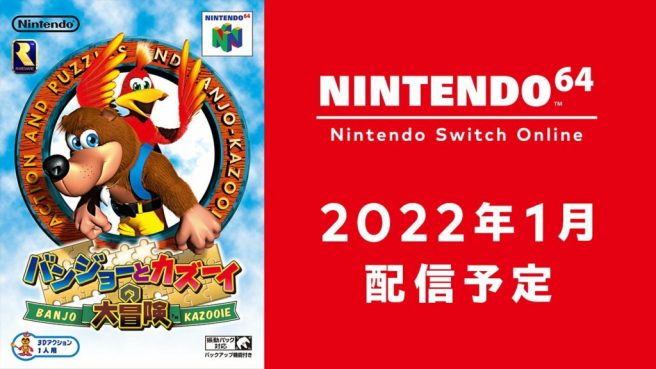 According to a translation by Gematsu, the next game slated for Nintendo Switch Online + Expansion Pass's Nintendo 64 library is the classic 3D platformer Banjo Kazooie. The game is scheduled to arrive on the platform sometime during January 2022.
Here's an overview for the game:
Action and Puzzles and Bears, Oh My!

Trouble brews when Gruntilda the witch captures the unbearably beautiful cub, Tooty. But before the grisly hag can steal the bear's good looks, big brother Banjo and his fine-feathered friend, Kazooie, join forces to stop her. Combining their 24 moves and special powers, Banjo and Kazooie will fend off armies of beasts. Bear and bird must hunt down the 100 puzzle pieces and 900 musical notes that will ultimately lead them to Gruntilda. However, miles of swamp, desert and snow and one bear of an adventure stand in their way.

-Soar over islands to scout out buried treasure.

-Brave past whirling blades in the belly of a mechanical shark.

-With some voodoo magic, transform into different creatures to gain special powers.

-Solve the puzzles of the ancients to unearth the cursed labyrinths.
The Nintendo 64 – Nintendo Switch Online + Expansion Pass library first became available in October earlier this year. Multiple Nintendo 64 games are already available to players, including Paper Mario, Super Mario 64, The Legend of Zelda: Ocarina of Time, Star Fox 64 and Mario Kart 64 with more titles on the way. You can see the full list of launch titles here.
Leave a Reply