Bloodstained reveals its full English voice cast, release window to be announced "very soon"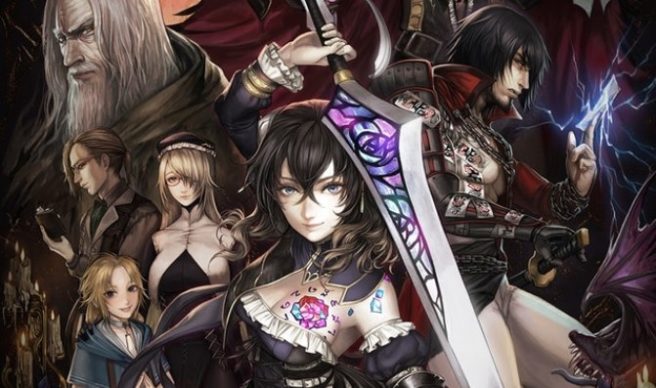 Bloodstained's latest Kickstarter update was posted today. Although it didn't arrive with a release date as originally expected, we do have quite a bit of news.
First, the game's full English voice cast has been revealed. Highlights include Erica Lindbeck as main character Miriam, David Hayter of Metal Gear Solid fame as Zangetsu, and Rena Strober (Fire Emblem Fates' Azura) as Anne.
The full cast is as follows:
Miriam – Erica Lindbeck
League of Legends – Taliyah, Zoe
Persona 5 – Futaba Sakura
Nier: Automata – Anemone
Street Fighter V – Menat

Zangetsu – David Hayter
Metal Gear Solid – Solid Snake
The Castle of Cagliostro – Lupin III
Dragon Age: Inquisition – Lieutenant Renn
Mobile Suit Gundam 0080: War in the Pocket – Bernard Wiseman

Gebel – Ray Chase
Final Fantasy XV – Noctis Lucis Caelum
Nier: Automata – Eve
JoJo's Bizarre Adventure: Stardust Crusaders – Rubber Soul
Tales of Berseria – Artorius Collbrande

Johannes – Ben Diskin
JoJo's Bizarre Adventure – Joseph Joestar
Naruto Shippuden – Sai
Mobile Suit Gundam: The Origin – Char Aznable
Halo 4 – Jared Miller

The Coachman – Fred Tatasciore

Overwatch – Soldier: 76
Starcraft II: Heart of the Swarm – Zeratul, Rory Swann
God of War III – Ares, Barbarian King, Typhon
Mass Effect – Saren Arterius

Dominique – Fryda Wolff
Mass Effect: Andromeda – Sara Ryder
Fallout 4 – Vault Security
Octodad: Dadliest Catch – Stacy
Killer Instinct – Mira

Gremory – Kari Wahlgren
FLCL – Haruko Haruhara
Samurai Champloo – Fuu Kasumi
No More Heroes – Jeane
Eureka Seven – Anemone
Fate/Zero – Saber

Anne – Rena Strober
Fire Emblem: Fates – Azura
Persona 4: Dancing All Night – Kanami Mashita
Sailor Moon Crystal – Esmeraude
Zero Escape: Zero Time Dilemma – Akane Kurashiki

Alfred – Christopher Swindle
Transformers: Robots in Disguise – Ragebyte
Lego Dimensions – Brain Gremlin / Betelgeuse
Disney Infinity – The Hoarder

Mysterious Man – Robbie Belgrade
Castlevania: Symphony of the Night – Alucard
Tekken – Announcer
Mega Man X7 – Signas
Shenmue – Pedro Warren

English Voice Acting Directed by Jamie Mortellaro
Halo 4
Silent Hill: Shattered Memories
Professor Layton and the Unwound Future
EverQuest II
Knack
We also have this behind the scenes video:
Last but not least, 505 Games brand manager Roberto Piraino said the following regarding Bloodstained's release date and next beta backer demo:
"…we've seen some confusion out there regarding Bloodstained's release date, based on speculation after Iga's video about how the scope and timeline of the game have changed. We want to clarify that we have not yet announced any official release date for the game, but before apocalyptic panic and speculation ensues, we're also happy to let you know that we will be announcing the release window very soon.

In the meantime, we'd like to officially announce that the "Beta Backer Demo" will be available June 2018. Every backer at the $60 level or above, regardless of chosen platform, will receive a STEAM code via email that will enable them to download the demo and play it on PC. In the time leading up to this beta, expect to hear more about what will be in the demo, how we'll collect feedback, and of course, the exact details regarding what day and time it will be available for everyone."
Leave a Reply