Book of Demons getting a physical release on Switch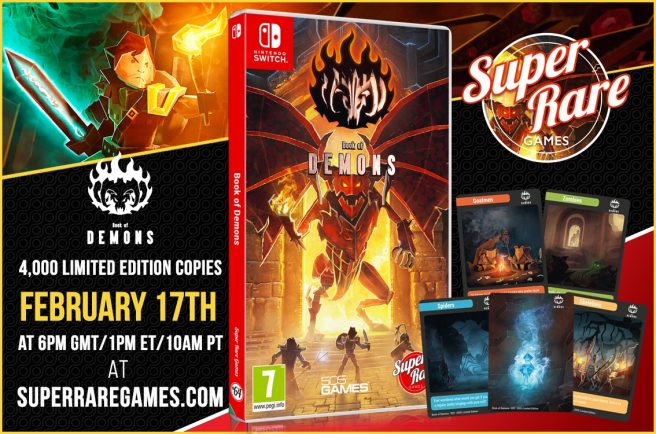 Book of Demons, which first appeared on Switch in August 2020, is now getting the physical treatment on Switch. Super Rare Games will be responsible for distribution.
4,000 copies will be up for grabs. Each unit includes all the current content on its cart, a full-color manual, interior artwork, an exclusive sticker, and trading cards.
A deckbuilding hack and slash hybrid that lets you decide the length of your adventure. Wield magic cards and slay the armies of darkness in the Old Cathedral dungeons. Save the terror-stricken Paperverse from the clutches of the Archdemon himself!

Hack & Slash in the world of Paperverse – Taking place in Paperverse, a world that exists entirely inside a pop-up book, this is a tale of good and evil about saving the world from the ultimate devilry. Sounds familiar? Inspired by the dark and gloomy atmosphere of the first Diablo game, Book of Demons is part tribute, part parody of hack & slash classics.

Cards and Deckbuilding – While not a card game, items, spells, and skills are all expressed as cards. Assess and adapt your hand based on the situation. Upgrade your cards with runes and discover many variants with diverse bonuses.

Tailored sessions with Flexiscope – A game that respects your time? Use the Flexiscope engine to divide your game into sessions of any size. It even learns your pace of gaming and predicts the time to complete the next session!

Unique Mechanics – The game sets itself apart from most other hack & slash games with its simplified movement and fight mechanics.

Comfort of Gameplay – Designed with gameplay comfort in mind, some of the features include: marking points of interest at the top of the screen and revealing them once you get closer, and visible footprints, which can be used to track your way back or notice paths already visited without opening the map.

Challenging Endgame – On average it takes about 10 hours to complete the campaign with a single class, but maxing out a character and mastering all of the higher Freeplay difficulty levels and Quests takes much longer. The Roguelike mode offers another level of challenge with permadeath, restricted healing, and even more obstacles to overcome.
The physical version of Book of Demons will be going up for pre-order on February 17 at 10 AM PT / 1 PM ET / 6 PM in the UK / 7 PM in Europe. Super Rare Games will have it here.
Source: Super Rare Games PR
Leave a Reply