Bossgard heading to Switch in early July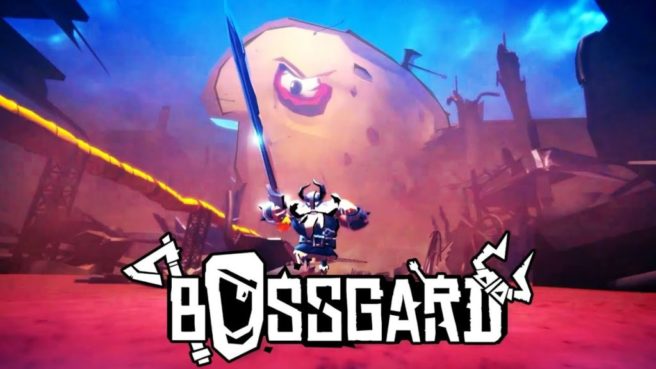 A couple of years after it was announced for Switch, Bossgard's release on Nintendo's console is just around the corner. Sand Sailor Studio said in an announcement today that its boss battler is heading to the eShop in early July.
The developer has also prepared a new trailer. We have that below, along with a bunch of information about the game.
Ragnarok came and went, but not as the sagas would tell it – instead the world has been destroyed by an evil power like no other, a power which unleashed the most ridiculous monsters against the gods and heroes of the North. The world is no more, there is no Midgard, there is no Asgard, there is only Bossgard – the land of Bosses, where giant slices of sentient bread, huge plungers and evil jackhammers rule over the snowy wastes. The last remaining Vikings gather their strength and prepare for a series of unforgettable encounters.

Swords will clash with toast, fists will face rubber and spears shall tear through steel – the ultimate boss battles are here!

The game

Bossgard is an online and local multiplayer boss-battler for up to 6 players in which you can either play the big bad boss or you can join a party of Vikings against a cast of silly titans, where each of them boasts unique mechanics.

Bosses rely on their raw size to crush their foes, while others command armies of minions or robots to do their bidding. Some bosses favor pinpoint accuracy while others are specialized on controlling the board through sustained bombardment. Each one Boss comes with its own power fantasy.

The Vikings rely on teamwork and combining their unique set of skills to overcome their already slim odds of success. Tank, dodge, heal, deploy turrets and raise the dead in a fight like no other. There is strength in numbers – but more importantly in cooperation.

Bossgard's boss fights are unique, because the Bosses are player-controlled. This is not a game about memorizing attack patterns – this is a game about outsmarting and outmaneuvering a human-controlled juggernaut with a very specific set of skills.

The game is designed for up to 6 players but can be played in any other combination. It features multiplayer modes like the classic Boss vs Vikings, Vikings vs Vikings and even a singleplayer 3rd survival mode where you get to face Bossgard's snowy wastes up close and personal, hunting monsters and scavenging for sources of warmth.

Bossgard is a truly one-of-a-kind game that should have no trouble becoming a go-to party game for those looking for a hassle-free multiplayer boss fight where each session is a minute-to-minute symphony of hardboiled action!

Key Features

Unique Playable Bosses with distinct mechanics

Each Boss looks, plays and feels completely different. What would you rather be? A cyclopean slice of toast? Maybe a giant evil plunger? Perhaps

Online and Local Multiplayer with up to 6 players!

We hope you brought company because Bossgard is best played on a crowded couch or over noisy online multiplayer sessions!

Multiple game modes!

Go against the Boss in Vikings Vs Boss mode, or fight fairly in Viking vs Viking. Set up your own game rules in Kustom Game and if you're feeling adventurous…

Try and survive the frozen wastes!

Enter the singleplayer Survival Mode and hunt monsters in an effort to survive the cold. In the end only the bravest and most cunning of Vikings will be able to face the Boss!

Couch Versus Couch support

You and your friends can play locally against or with online players!

Fight in top-down view mode or in 3rd person!

Bossgard can be played from a bird's eye point of view when playing with others, or it can be enjoyed in a more up-close manner when playing solo! The game will look great regardless!

Customize your characters!

Unlock all sorts of cosmetic items ranging from weapons and helmets, to flags and color schemes. Mix them up and create your own versions of your favorite characters!

Other Features

Bot support
No friends? No problem! The bots are more than capable of giving you a hard time. Too hard? No worries, their difficulty can be scaled up or down!

Party composition is key
Healing powers, turrets, shields, buffs, each Viking has its own ability on top of which they can choose a Rage attack, basically forming a "class"

Team synergy
The Vikings' abilities are designed to work together. Shield that healer long enough till the whole team is brought back for one last final assault against the Boss.

Vikings from all around the world
These warriors hail not just from the North, but from everywhere else as well! Canadian, Jamaican, British and Japanese Vikings are just some of the warriors building up an already bright and colorful roster.

Travel to colorful, foreign lands…
…and make a beautiful mess! Sharks, streams of hot coffee and alien plasma cannons will stand between the Vikings and the Boss.
Each arena comes with its own theme, soundtrack and Boss-controlled trap!
Stay tuned for Bossgard's final release date on Switch.
Source: Sand Sailor Studio PR
Leave a Reply