Bubble Bobble 4 Friends getting a collector's edition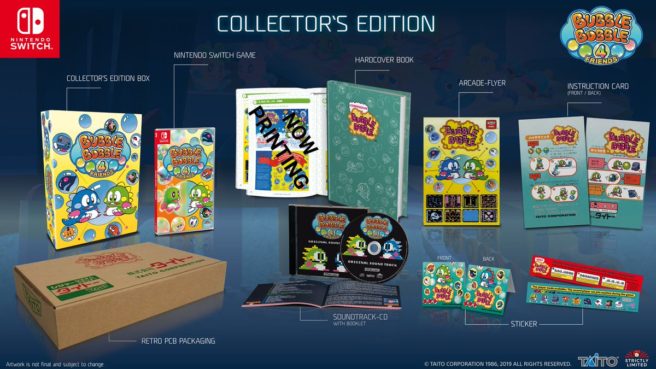 ININ has announced a partnership with Strictly Limited Games that will see the release of a special collector's edition for Bubble Bobble 4 Friends.
The collector's edition contains a number of items relating to Bubble Bobble and its history, "which have been translated from Japanese with great attention to detail in order to make them accessible to fans and collectors." It will be sold on Strictly Limited Games' website starting October 27 for €89.99. Only 2,500 units will be made.
The full contents of the package are as follows;
– Exclusive cover with individual numbering
– High-quality collectors box with magnetic closure
– Original soundtrack from TAITO's legendary "House Band" Zuntata (includes the soundtrack from Bubble Bobble 4 Friends and the original music from Bubble Bobble)
– Hardcover book, providing fascinating insights into Bubble Bobble
– 2 sheets with a stylish marquee and artwork stickers
– Bubble Bobble Instruction Card
– Bubble Bobble Arcade Flyer
– Bubble Bobble 4 Friends Box
While Strictly Limited Games will have the exclusive on the collector's edition, a standard version will also be sold with an exclusive cover.
Source: ININ Games PR
Leave a Reply