Carrion is getting a new physical release on Switch at retail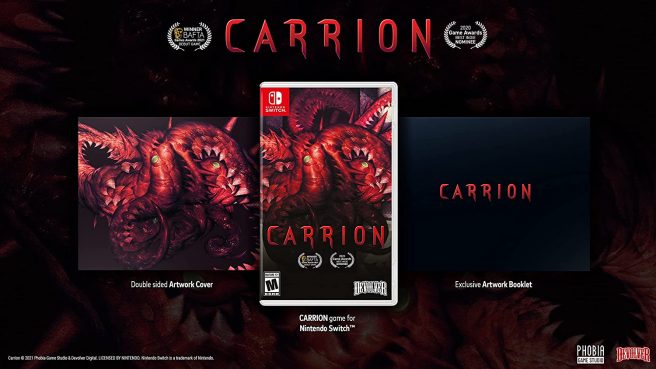 A new physical release of Carrion on Switch is coming to retail, according to various store listings.
It's true that a boxed version of the game was offered last year. However, that was only through Special Reserve Games. This is the first time that we'll be seeing it at most major retailers.
Carrion, a reverse horror game from Devolver Digital and Phobia Game Studio, first debuted on Switch in July 2020. Read a bit more about the title below.
Carrion is a reverse-horror game in which you assume the role of an amorphous creature of unknown origin. Stalk and consume those that imprisoned you to spread fear and panic throughout the facility. Grow and evolve as you tear down this prison and acquire more and more devastating abilities on the path to retribution.
According to Amazon US, the new physical edition of Carrion is planned for November 9 at a price point of $29.99. Pre-orders are live here. It's currently looking like Europe will be getting the game slightly earlier since Amazon UK has it down for October 29, and pre-orders are up here.
For those interested in playing through Carrion right now, they can do so by picking up the digital version from the eShop.
Leave a Reply