Castle Crashers Remastered launches for Switch on September 17, new details and trailer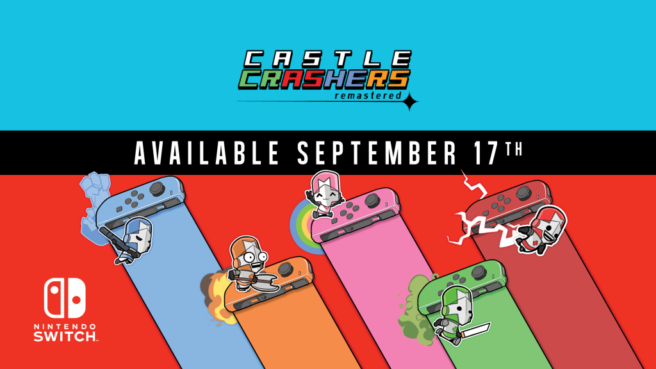 Castle Crashers Remastered has finally been dated for Switch. The game will launch on September 17, developer The Behemoth announced today.
Here's a bunch of information about the game:
After months of responding to questions and posts and tweets of "When is Castle Crashers coming?" with "Later this summer!" and "Soon™" too many times to count, today we are finally ready to share more information with you.

Castle Crashers Remastered will launch on the Nintendo Switch on September 17, 2019, with the PlayStation 4 version of the game planned to follow shortly after.

See, we promised you'd get it this summer, and technically summer isn't over yet!

Jokes aside, we know that the game isn't coming out quite as soon as you (and we) had hoped, and we'd like to talk a little bit about why that is.

Although Castle Crashers Remastered has been around for quite some time, we haven't brought a game to a Sony system since the PlayStation 3, or a Nintendo console since the GameCube. We've gone generations in between then and now, and while we're beyond excited to be bringing Castle Crashers to modern consoles, making that leap has come with a number of difficult development challenges. Some of these challenges took us longer than expected to work through; in fact, the PlayStation 4 version of the game is still going through it's final approval processes, which is why we are not yet confirming it's exact launch date. However, we wanted to take our time to make sure that when we launch the game it is complete, polished, and the best quality it can be.

It's important for us to be confident that when you finally sit down to play Castle Crashers with your friends, you're going to have a great experience and an absolute blast. We're taking the time to make sure that will happen, even if it means that things are taking a little longer than expected and we couldn't always keep all of you completely in the loop while we figured things out.

Thanks for your patience and understanding throughout this development process; we couldn't do what we do without the support of Behemoth-ites like you. We're thrilled to finally be bringing a new way to play Castle Crashers to the world, and we're dedicated to making even more brain-melting, eyeball-exploding video game experiences in the future… though we'll talk about that more later.

But for now…

Alright, so we're not done quite yet. Now that we've gotten the heartfelt letter and fantastic trailer out of the way, here are the answers to all the questions you've been asking, in the format of what most would call an FAQ.

Where will I be able to buy Castle Crashers Remastered, and how much will it be?

Castle Crashers Remastered for Switch will be available to purchase digitally on the Nintendo E-shop for $14.99 USD when it hits stores on September 17, 2019. When the PS4 version of the game launches, you will be able to pick it up in the PlayStation Store for the same price.

What does the "Remastered" part mean?

Remastered means the game includes all of the differences from the original:

The fast-paced and frantic mini-game "Back Off Barbarian" that you can play by yourself or with your friends
Texture sizes are five times greater than the original game, which means the game is five times more beautiful
60 frames per second gameplay! (The original ran at 30FPS which is not nearly as smooth)
All previously released downloadable content including characters, weapons, and animal orbs will be available to unlock in-game
Various performance updates and improvements to gameplay and online multiplayer

What special Nintendo Switch features are there? What about PlayStation 4?

The Switch features HD Rumble, Switch Online, and up to 4-player local Joy-Con support so you can use your Joy-Cons in any configuration to play with friends online, offline, on the big screen, or in the palm of your hand. On PS4, lightbars will be set ablaze with your character affinity color, and you can play online or offline with friends for up to 4-player chaos!

Is the game going to be cross-platform?

It's not something we have in our plans. For now, you'll have to stick to grouping up with friends on the same console, but between couch co-op and online play you should still have plenty of ways to connect!

Hope you like it, and you'll be hearing from us again soon!
And a new trailer:
Leave a Reply