Castle of Heart announced for Q1 2018 release on Switch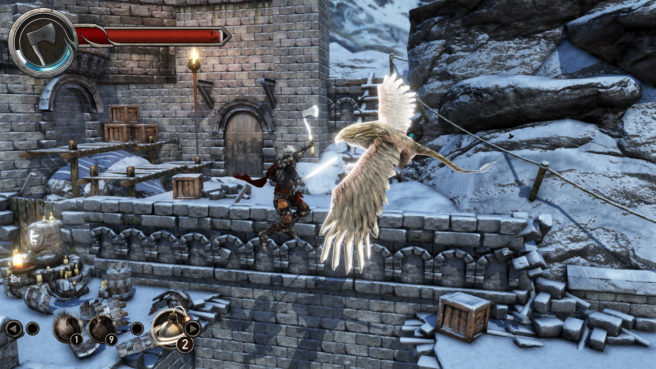 7levels has announced Castle of Heart, a new game in development only for Switch. It's an action-platformer in which you'll play as a knight to reach a dark ruler's castle and free yourself of a curse. The game has 20 levels, tons of different weapons, HD Rumble support, and more.
Castle of Heart launches on Switch in Q1 2018. We have a ton of additional information and a teaser below.
Become a knight turned into stone. Keep moving and fighting your enemies to avoid getting disintegrated. Find your own combat style with loads of short- and long-range weapons and make good use of clever power-ups to gain an advantage over your opponents. And, most importantly, prove that under that skin of stone beats the heart of a true hero!

Castle of Heart is a classic action platformer at the genre's best and most challenging, with plentiful of new twists on the formula to experience. Players take control of a cursed knight who has been turned to stone by an evil sorcerer's spell, but who is ready to prove that love and courage can conquer even the darkest magic.

Your brave hero must travel all the way from their petrified village to the dark ruler's castle, mastering 20 levels set in 4 distinct environments. Each is full of enemies that require different strategies to be beaten successfully and includes sudden gameplay changes. All this translates into exciting, dynamic action sequences. The selection of progressively more powerful weapons, from the humble sword to a powerful magical arsenal, as well as power-ups, will aid your hero in their quest. But remember: a body of stone has its limits! It disintegrates permanently as the knight loses energy, which can only be supplied by defeating enemies. If you let it reach a critical level, your hero may lose an arm and the ability to wield weapons with it.

Castle of Heart offers beautiful and detailed 3D graphics with changing landscapes, weather conditions, and rich backgrounds. The game's aesthetics and bestiary are equal parts inspired by Slavic mythology (with some locations straight from famous, mystical locations in Poland, the developers' home country) and the dark fantasy atmosphere of the best action platformer titles from the golden age of the genre. All of this makes Castle of Heart a perfect mix of classic influences and modern approaches, utilizing the spectrum of the Switch's features, which will enchant both fans of the genre and newcomers.

CASTLE OF HEART MAIN FEATURES

– A unique main character: a knight turned into stone who needs to keep fighting to avoid disintegrating
– 20 completely different levels in 4 beautiful environments loosely inspired by real-life locations
– Roughly 50 types of both short- and long-range weapons, allowing each gamer to find their own, individual combat style
– HD Rumble support, further increasing players' immersion
– At least 7 hours of addictive, exciting gameplay
– Epic boss fights at the end of every location
– Breathtaking graphic design
– Numerous power-ups that enrich the gameplay
Source: 7levels PR
Leave a Reply