Cave Story creator's new game is "Gero Blaster", looks to be heading to 3DS
Cave Story creator Daisuke Amaya has finally revealed his next game. At the BitSummit event in Japan, Amaya announced Gero Blaster, a brand new 2D action/platformer for the iPhone.
Players will take on the role of Kaeru as he searches for his kidnapped girlfriend on an "unknown planet." Kaeru wields a gun as you guide him through different areas.
So why are we posting about an iOS title on Nintendo Everything? Well, it appears that Gero Blaster will be heading to the 3DS as well. Nicalis' Tyrone Rodriguez tweeted a photo that appears to show the game running on Nintendo's portable: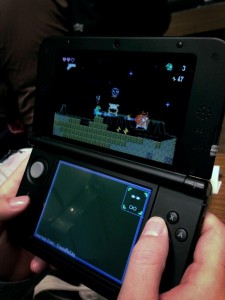 Gero Blaster will be released in May.
Leave a Reply