Chocobo GP update out now (version 1.4.1), patch notes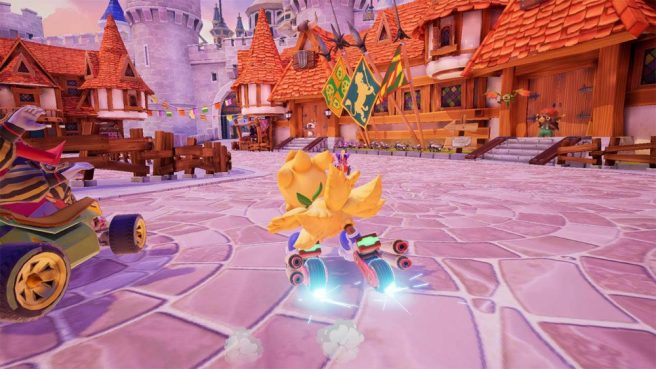 Square Enix started distributing another update for Chocobo GP, bringing the game to version 1.4.1.
A number of problems have been addressed here. The game has fixed issues affecting the Midgar courses, Cactuar abilities in Time Attack, and lobby issues in multiplayer.
The full patch notes for the Chocobo GP version 1.4.1 update are as follows:
– Fixes to an issue with multiplayer where settings would change from "mirror" mode to "master" mode if a lobby was created with mirror mode set and then play continued for a time without disbanding that lobby
– Fixes to an issue on the Midgar short and technical courses, where racers would sometimes be judged to have gone off the course incorrectly.
– Fixes to an issue when using Cactuar's 1000 Needles ability in Time Attack mode where the ability is immediately forced to end if Cactuar touches a ghost while hit detection for the attack is active.
– Fixes to an issue on the sticker select screen where the cursor moves to locations that should not be selectable if it is made to skip from a specific location.
– Fixes to an issue on the LITE edition where options that cannot be selected are displayed as options that can be selected if transitioning between screens in a specific way.
– Fixes to an issue where the correct color is not shown when selecting the "Premium Gold" color for the Kwackeys' speed type vehicle.
All players on Switch can download the new version 1.4.1 update for Chocobo GP now.
Leave a Reply