Close to the Sun launches October 29, comparison trailer, collector's edition revealed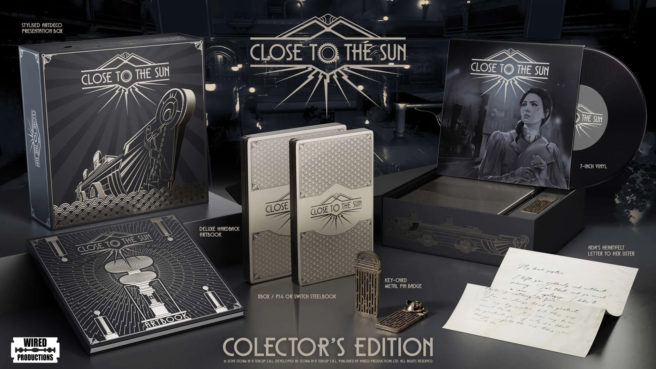 The teslapunk adventure horror title Close to the Sun will arrive for Switch on October 29, publisher Wired Productions and developer Storm in a Teacup have revealed.
Also announced today is a limited collector's edition, which can be pre-ordered on the Wired Productions Store here. Only 1,000 pieces will be produced.
The following items are included:
– A physical copy of Close to the Sun on PlayStation 4, Xbox One or Nintendo Switch
– Stunning Art Deco FuturePAK metal game case compatible with your chosen format
– Deluxe hardback artbook featuring 48 pages of awe-inspiring Close to the Sun game art
– Exclusive Close to the Sun, Faraday Key-Card metal pin badge
– 7" vinyl record featuring the Close to the Sun's mesmerising titular track by Porcelain Pill
– Ada's heartfelt letter to her sister Rose, summoning her aboard the Helios
– Numbered and stylised certificate of authenticity
– Premium finish fitted presentation box
– A bonus digital copy of Close to the Sun for the Epic Games Store so fans can enjoy the game in its original format
Here's an overview of Close to the Sun, along with a trailer:
It's 1897. Deep in international waters, the Helios stands still. Dark clouds loom overhead as unforgiving waves crash against the hull. Colossal effigies of gold, decorated with magnificent finery, stretch as far as the eye can see.

Born of Nikola Tesla's vision, the Helios serves as a haven for the greatest scientific minds. An unbound utopia for research, independent from state and isolated from the gaze of society. Free to push the boundaries of matter and time.

Journalist Rose Archer steps aboard the Helios in search of her sister Ada. She quickly discovers not all is as it seems. Grand halls stand empty. The stench of rotting flesh lingers in the air. Silence. A single word is painted across the entrance… QUARANTINE!

Experience a second era of scientific enlightenment, where the mind and inventions of the great Nikola Tesla have shaped the 19th century

Step aboard the Helios – Explore the colossal and mysterious vessel of scientific discovery, a safe haven for scientific progress, away from the threat of corporate espionage

Use your wits to guide Rose on her journey to find her sister Ada, overcome dangers unknown to understand the fate of the Helios and its inhabitants

Solve challenging puzzles to progress through the game and unlock secret areas

Search every corner to uncover hidden collectables and discover the history and secrets of Wardenclyffe and its workers

Explore a visually stunning environment Built in Unreal Engine 4
Source: Wired Productions PR
Leave a Reply