Colorful puzzler Grindstone announced for Switch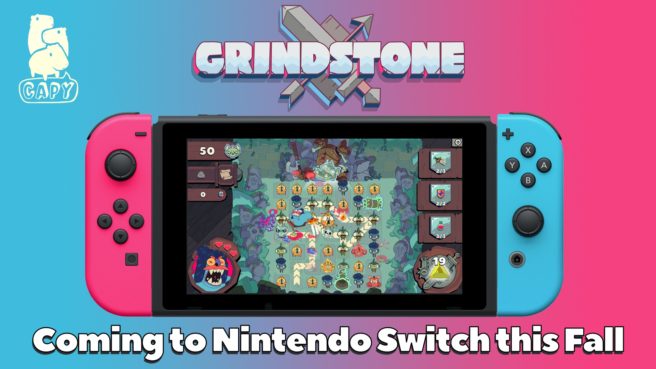 The colorful puzzle title Grindstone is making its way to Switch, Capybara Games has announced. It's slated for release this fall.
Here's the full announcement and trailer:
Following Capy's lineage of award-winning puzzle games like Might & Magic: Clash of Heroes and Critter Crunch, Grindstone disguises itself as a simple color-matching experience wrapped in signature Capy vibrance, but quickly reveals layers of deep strategy and turn-based action.

Through its satisfying risk versus reward gameplay, players will cut through dozens of Creeps and Jerks as the muscle bound family man, Jorj. Help Jorj survive the complex obstacles of this treacherous mountain, and maybe he will be able to afford that well earned family vacation.

Grindstone will arrive on Nintendo Switch with over 200 levels, including all of the levels added to Grindstone's monthly updates on Apple Arcade, and full touch control.

About Grindstone

Grindstone is a game of sword-slashing puzzle battles from the award-winning studio behind BELOW, Sword & Sworcery EP, Super Time Force Ultra, Critter Crunch and Might & Magic: Clash of Heroes! Grindstone first released on Apple Arcade in September 2019 to widespread acclaim, earning many awards and nominations.

Grindstone Mountain is overrun with vicious Creeps! Slay your way up its treacherous peak where fortune, glory (and death) awaits!

It'll take sharp puzzle skills and an even sharper blade to slice your way through the swarms of bloodthirsty Creeps dwelling within Grindstone's dungeons. Battle bosses, loot resources, discover long-lost blueprints for powerful gear, all while eviscerating the innards from your deadly foes! Over 200 levels of intense puzzle-battling madness!
Source: Capybara Games PR
Leave a Reply