Colt Canyon update out now (version 1.2.1.1), patch notes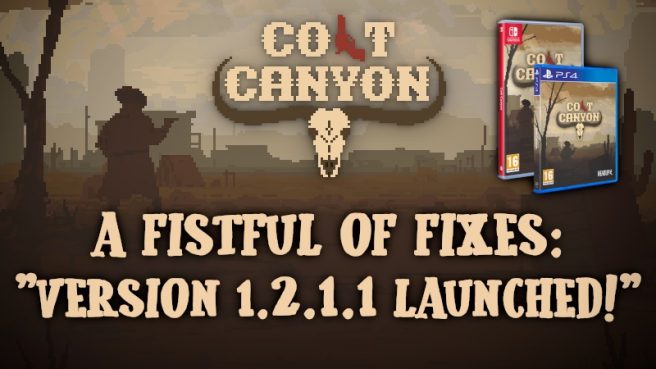 A new update for Colt Canyon has started distribution, with the game moving up to version 1.2.1.1.
Various improvements are here based on player feedback. These include balancing tweaks, adjustments, and fixes.
The full patch notes are as follows:
Small balancing tweaks to medic merchant
Made shields slightly less common
No longer allowing save restore after successful rescue
No longer counting new no permadeath game overs for average run length/progress stat
Blood weapons take slightly less health to use
"Damage taken" stat is now multiplied by 2 just like damage indicators, to prevent <1 values
Split "runs failed" stat into "permadeath fails" and in brackets "no permadeath" fails (only for new runs)
Fixed invisible game over screen bug that was present on some devices
Fixed companion shields not being saved
Fixed old saves not being auto-loaded
Fixed crash when killing merchants
Fixed a bug where players would get duplicated
Fixed decals sometimes disappearing when tabbing out
Fixed a memory leak related to pausing the game
Fixed background not being blurred on all devices
Fixed a bug where grass, shadows and decals would not be restored when re-entering a level
Fixed a bug where the HUD transparency didnt work as expected
Fixed a bug with shop pricing
Fixed a crash related to incendiary barrel
Fixed character rescue stat not increasing when savegame was loaded during B-Levels
Fixed a bug with the bandit boss shield
Fixed pause menu allowed to be opened when on game over screen
Fixed save being possible while on game over screen
Fixed a minor issue with seed input on consoles
Fixed some blood weapons reloading despite it killing you
Fixed upgrade icons on game over screen not being centered when having a lot of upgrades
Fixed explosive bullets explosions not being positioned correctly
Fixed blood weapon save reload exploit
Fixed merchants sometimes having no grass nearby
All players on Switch can download the 1.2.1.1 update for Colt Canyon now.
Leave a Reply