Cult of the Lamb update out now (version 1.1.0), patch notes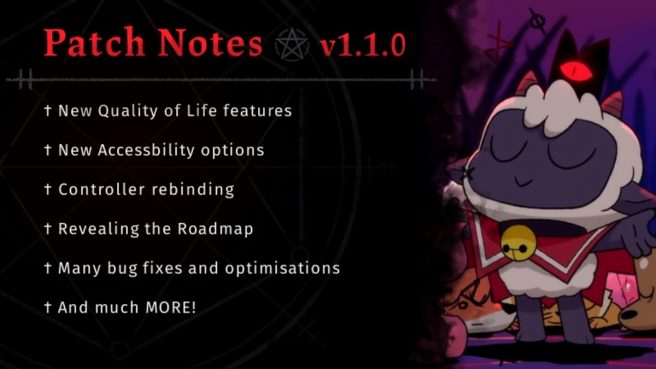 Cult of the Lamb has gone live with its latest update, and Switch players can now download version 1.1.0.
This comes with new quality of life features, new accessibility options, bug fixes and optimizations, and more. Improvements include mass blessings, auto cooking and fishing, controller rebinding, and cult renaming.
The full patch notes for the Cult of the Lamb version 1.1.0 update are as follows:
You can now rename your Cult, view Followers, and statistics while examining your Doctrine book
Added the ability to Bless, Inspire, and Intimidate multiple Followers at once
Added a Custom Bindings section for controllers, you can now bind your controller as you wish
Added auto-fishing Accessibility Option
Added auto-cooking Accessibility Option
Added hold-action toggle Accessibility Option
Roadmap has been updated to reflect the current update plan
Updated the UI for Controller layouts
Cults and Followers can no longer be given empty names
Ratau's letter now has the correct prompt
Play time will now display correctly if the save file exceeds 24 hours
Fixed an exploit in the world map allowing you to travel to locations you hadn't unlocked
Fixed an exploit that allowed you to open all Crusade doors after opening Anura
Fixed an issue where the difficulty level of a loaded save file may carry over into a new game
Revised gamepad layouts
Fixed an issue where multiple controllers connected will not be responsive
Many bug fixes and optimizations across all platforms
Massive Monster is still working on new content for Cult of the Lamb. A future update will add new elements for combat, dungeons, and the end game.
Leave a Reply