Daemon X Machina pre-load live, digital bonuses, file size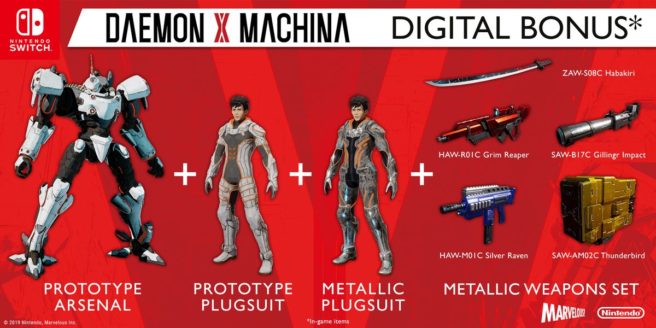 Daemon X Machina is now available to pre-load on the Switch in North America and Europe. Interestingly, it seems that those who purchase the game digitally will have access to a few bonus items.
Those are as follows:
– Prototype Arsenal
– Prototype Plugsuit
– Metallic Plugsuit
– ZAW-S08C Habakiri
– HAW-R01C Grim Reaper
– SAW-B17C Gilingr Impact
– HAW-M01C Silver Raven
– SAW-AM02C Thunderbird
We should mention that these bonus items are so far only listed on the European eShop. There's nothing up in North America yet, but we assume they'll carry across.
Daemon X Machina launches for Switch on September 13. The game takes up 5.8GB of space. If you're in Europe, you can save 10% on the price by pre-loading.
Source: Switch eShop
Leave a Reply