DC Universe Online announced for Switch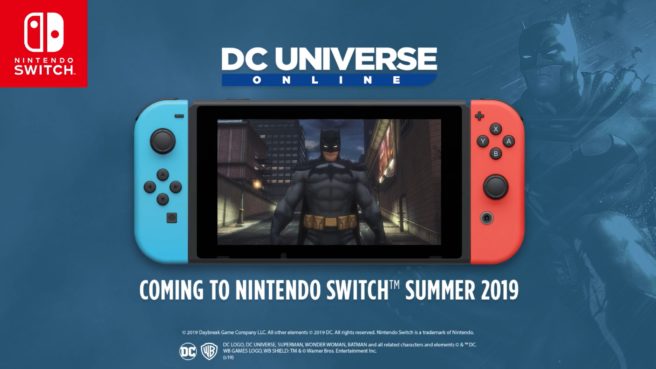 Daybreak is bringing the free-to-play MMO action game DC Universe Online to Switch, the company has revealed. It'll be releasing this summer on the system.
Here's some additional information about the game, along with a trailer:
DC Universe Online is a Free-to-Play, massive multiplayer online action game set in the popular DC Comics universe. Become one of a new breed of Heroes or Villains and wield incredible powers as you go to war with legendary characters such as Batman, Superman, Lex Luthor and The Joker.

Key Features
– Fast-paced action combat where you control every blow your character strikes.
– Choose your side – Hero or Villain – and customize your character on its path to becoming a legend in the DC Universe.
– Fight alongside and against your favorite DC characters including Batman, The Joker, Superman, Wonder Woman, Harley Quinn and many more.
– Embark on story-driven adventures penned by famous DC Comics writers including Geoff Johns and Marv Wolfman.
– Explore the DC Universe; walk the darkened streets of Gotham City, investigate the mysteries of the futuristic cityscape of Metropolis, and travel to legendary locations such as Arkham Asylum and the Watchtower.
Speaking with CBR, executive producer Leah Bowers said the Switch version came about when she and Daybreak Austin CEO Jack Emmert began talking about the challenges of bringing a game the size of DC Universe Online to a platform like Switch, but soon realized it could and should be done.
Bowers said:
"Bringing the game to the Switch was something that's very close to my heart. Nintendo was the first console I really connected with; and yet, I associated the brand with first party or platform games. But when the switch came out, it blew my mind and highlighted the possibilities that were there."
Creative director SJ Mueller added:
"It's very important to me that all of our communities stay the same and up to speed. I didn't want the Switch to be in a book all to itself; I wanted the other communities to benefit from the improvements that we were making and vice versa."

"It doesn't matter what level you are, just press the button and suddenly you're in Gotham, where everything's happening. On the Switch, fans get to try it again… for the first time!"
Leave a Reply