Dead by Daylight reveals Stranger Things collaboration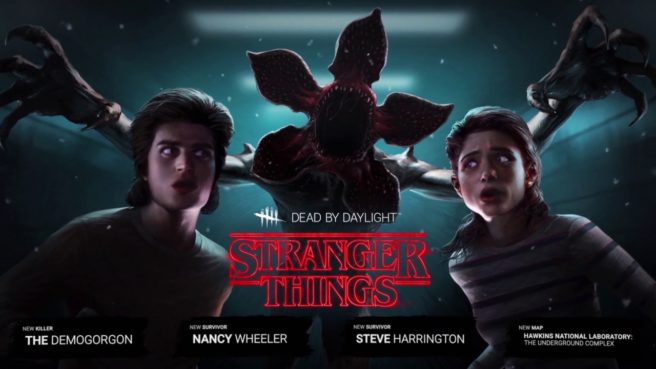 Behaviour Interactive today announced that it will bring Stranger Things to the world of Dead by Daylight. This will be going live on Switch in September.
Here's some information about what's planned:
The Demogorgon, Nancy and Steve join the Dead by Daylight roster

Stranger Things is a brand-new Chapter for Dead by Daylight, which includes a new Killer and two (!) new Survivors.

The Entity descends on the Midwestern town of Hawkins as Stranger Things, the critically acclaimed Netflix Original Series enters the realm of Dead by Daylight.

The Stranger Things Chapter comes with a new map, the Underground Complex. Located below the Hawkins National Laboratory, this grim compound caused an inter-dimensional rift that released dozens of creatures before being sealed off.

A surviving Demogorgon is the new untameable Killer. Against it stands not one, but two, new Survivors: Nancy Wheeler, a tough aspiring journalist, and Steve Harrington, a former high school jock with a knack for finding trouble.

The Stranger Things Chapter launches in September on PC and consoles and includes two exclusive cosmetic items: Steve's Scuffed Rolled Sleeves and Nancy's Torn Sweatshirt.
And a trailer:
Source: Behaviour Interactive PR
Leave a Reply