Death Road to Canada – "GIZZARD Update" live on Switch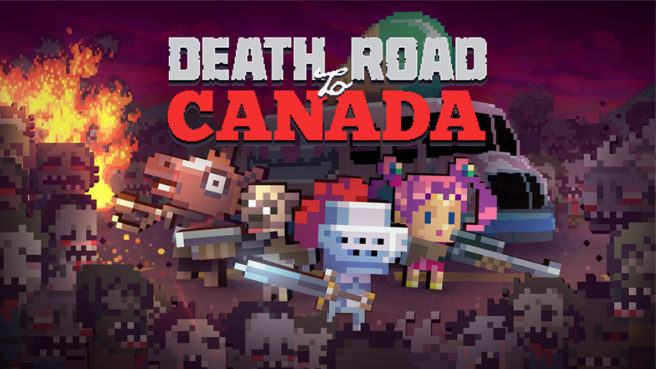 Rocketcat Games sent out the newest patch for Death Road to Canada on Switch. The "GIZZARD Update" tweaks the ending of the final level of the game, adds a new song to the soundtrack, includes a new Rare Special Character to trading camps, and more.
The patch notes are as follows:
– Moody added
– New weapon support added for Rocket Launchers and Electric Tools
– New weapons for Moody: Off-Brand Plasms Rifle, Moody Launcher, Moody Chainsaw
– You can no longer sell no-drop weapons to the Weapons Buyer, partially due to how exploitable this was on Moody

– New Song Added: One More Road. Plays during credits and as a random road song.

– Snubnose Pistol will now replace normal pistols 20% of the time
– Double-barrel Shotgun will now replace normal shotguns 10% of the time

– Ruined Trading Camp/Fire Sale: Removed the flaming car that was right next to you as you spawned.
– Fix for a crash caused by completely empty rooms

– Added the Last Mall on Earth, a new special trading camp. Has gas trader, weapons buyer, recruit campfire, 6 random traders, and a guaranteed rare 7th trader!
– Added the ability for trading camps to force a rare trader
– Fixed a hospital generation bug

– Changed how the on-death attributes work. Now Phoenix, Shield of Hope, and the July 4th and Bort characters will not drop their weapons on resurrection.
– Adjusted a bunch of city generation code for less getting stuck on trash.
– Made that really narrow city no longer generate door-trash.
Also specifically on Switch, touch screen controls have been added to all buttons int he game. The "Challenge Chicken" has been added as well to unlock an area for viewing achievements. Lastly, save files are separated, so now each account will have its own save rather then sharing.
Leave a Reply