Deathsmiles I & II confirmed for the west, physical editions revealed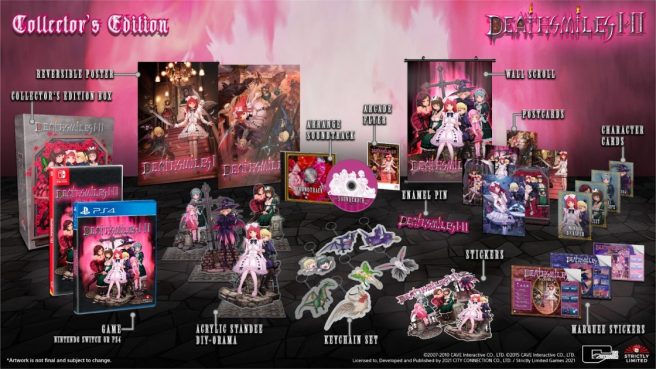 Strictly Limited Games, in partnership with City Connection, has announced that Deathsmiles I & II is coming west on Switch and physical versions are in the works. These shoot 'em up titles will be offered in boxed format with a Limited Edition and Collector's Edition.
The Limited Edition has a copy of the game and a manual comes with a manual for €49.99. 2,800 copies will be made on Switch in total.
As for the Collector's Edition, it'll be priced at €89.99 and is limited to 2,200 copies. All copies include:
Game for Nintendo Switch or PS4
Collector's Edition Box
Acrylic Graveyard DIY-Orama
Wall Scroll with Main Visual
Large, reversible poster (DIN A2)
Character Sticker Set
OST with Arrange DLC Tracks
Set of 6 Postcards
4 Character cards
3 Marquee Stickers
"Deathsmiles" Enamel Pin
Set of Keychains
Deathsmiles Arcade Flyer
Strictly Limited Games will be taking pre-orders for the physical versions of Deathsmiles I & II starting on November 7. Reservations will be going up here.
Deathsmiles I & II, which was announced for Switch last September, is initially planned for December 16 in Japan. It will include Deathsmiles, Deathsmiles Mega Black Label, and Deathsmiles II with some new functions.
Source: Strictly Limited Games PR
Leave a Reply