Defend the Rook gets April release date on Switch, new trailer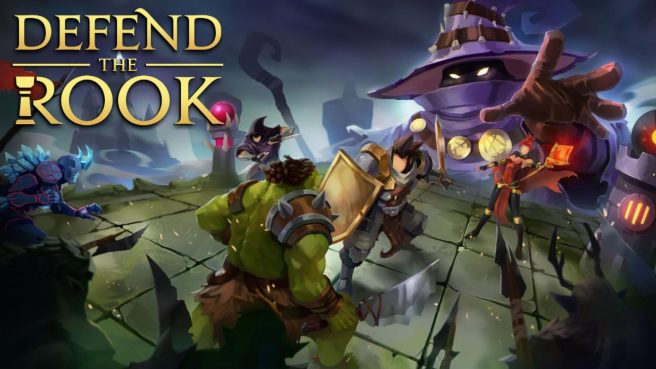 Following the announcement a few months ago about Defend the Rook heading to Switch, the title has been given a release date. Goblinz Publishing and developer One Up Plus confirmed this week that the roguelike tactical tower defense game is slated for April 14, 2022 on Nintendo's console.
We have the following overview for Goblinz Publishing:
Embark on a magical journey as a powerful Magister hired by his queen to defend the kingdom against the threat of a demon lord. Armed with legendary heroes and many contraptions, defeat hordes of foes in turn-based battles throughout vast mountains, snow-peaked forests, sand-swept deserts, and every other inch of the realm to ensure the safety of the land and its denizens.

Deploy the Warrior, the Rogue, and the Sorceress to fight against waves of goblins, elves, orcs, and other mythical creatures wanting to destroy the Rook, the kingdom's life essence, and seize the magical crystals powering the land. Position each hero strategically on the battlefield according to opponents' attacking positions. Place barricades to delay adversary forces, ice traps to freeze them in place, and damage-inflicting towers to aid in battle and swing the tide to the Magister's favor.

Choose a combo of in-battle spells including blessings to restore heroes' health, invigorate to allow a hero to attack twice in the same turn, and a static storm inflicting damage to all rivals at once. Collect gold and experience points from each kill to upgrade heroes' powers and contraptions, as the beasts get stronger with each passing wave. Unlock a hero enhancement at the end of winning waves, such as the Magister's Anger to increase their powers for each damage the Rook has suffered or revive a fallen hero with limited health.

As the Magister defeats each formidable boss threatening his home, the mysterious plots behind the kingdom's invasion start to unravel before his eyes. Does the queen serve the best interests of her people? Or does the Magister need to vanquish a tyrant before she amasses too much power?
A trailer for Defend the Rook accompanying the release date news can be found below.
Defend the Rook is now up for pre-order on the Switch eShop with a 25 percent discount. Those that own Legend of Keepers or Banners of Ruin will be provided with a 50 percent discount.
Source: Goblinz Publishing PR
Leave a Reply