Disgaea 5 Complete launching at the end of May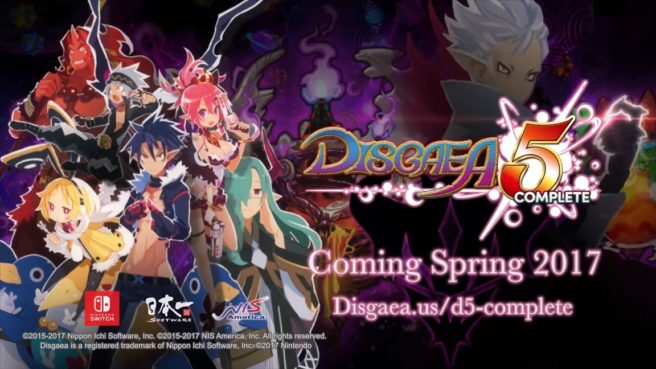 Update: May 23 for North America, just announced at NIS America's press event.
---
Disgaea 5 Complete had previously been targeted for Spring 2017 on Switch. Thanks to the latest issue of MCV, we now have a concrete date.
MCV has Disgaea 5 Complete down for May 26. We should point out that this news comes from a UK magazine, but we expect the North American release to be planned for around the same time, if not the same day.
NIS America senior associate producer Alan Costa told MCV:
"Both versions are the same. However, the Switch version features all the DLC from the PS4 version. We will definitely be emphasizing that all DLC can be found on the Switch version as well as highlighting that the game can be played at home or on the go."
Bonus playable characters and new scenarios encompass the included DLC. The content "adds many more hours of content and strategy to the base game as well as allowing series' fans to enjoy their favorites from past games."
Leave a Reply