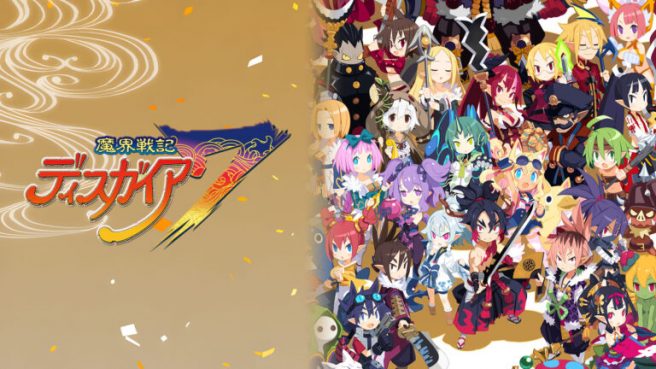 Nippon Ichi Software has just revealed the latest installment in the Disgaea franchise, Disgaea 7. The game is set to release in Japan early next year on January 26, 2023.
The game is set in the "Hinomoto Netherworld Cluster", a Japanese-culture inspired world now bereft of honor and Bushido. You take control of a new cast of characters, including the samurai-like demon Fuji and the cheerful Ao as you attempt to restore honor to the land of Hinomoto. Gameplay-wise, the title will expand on the over-the-top gameplay the series is known for, including new features like ranked battles, item reincarnation, or even the ability to become a giant during battles.
Check below for an overview of the game pulled from the official website (translation courtesy of Gematsu) and a trailer for the title.
"Hinomoto Netherworld Cluster"

The "Onsen Netherworld," where hot springs spit out evil spirits instead of water; the "Sardine Netherworld," which exists in a super-sized space sardine; the "Shikoku Netherworld," which has a gigantic whirlpool that destroyed countless demon ships; and so on…

In a world made up of multiple unique Netherworlds, the inhabitants followed a code unlike other demons called "Bushido."

Although that is a thing of the past. Hinomoto has changed since the arrival of the demon admiral Opener and his navy.

The demons of Hinomoto abide the laws Opener has laid down called "Hinomoto Destroy Hatto."

"Hinomoto Destroy Hatto"

One: Destroy Bushido.
Two: Anyone who complains about their salary or taxes will be killed.
Three: Say "no thanks" to friendship or love.
Four: Please help the strong and defeat the weak.
Five: Fights are what make the Netherworld, so feel free to inflict violence.

…all who do not abide by these laws will be punished by the Harakiri.

Eventually, the once honored samurais disappeared from Hinomoto…

This is a story about a girl who admires Bushido, and a young man who hates Bushido, as they fight for what they believe in, in a world that forgot honor.

New Feature #1: The Rule-Breaking Simulation RPG Scales up with "Dodeka MAX"!

The Disgaea series is known for its "combat system where all things go" and "infinite character development system." In Disgaea 7, this is further enhanced with a new rule-breaking system.

The new system "Dodeka MAX" will enlarge the characters so big that they leap out of the map! Defeat multiple enemies with a giant powerful blow, open giant treasure boxes—the "Dodeka MAXed" characters wreak havoc all around the map!

Don't miss out on the biggest dynamic battles of the series!

New Feature #2: Create Edible… Swords? Item Reincarnation

In Disgaea 7, not only characters, but items can be reincarnated to make them stronger. Make swords into gum, slipper into staffs, and so on by reincarnating them again and again. You can create swords that heal you when eaten, or staffs that boost your mobility! What kind of items will you create and who will equip them? Make the ultimate badass items from countless possibilities!

New Feature #3: First Time in the Series, Ranked Battles are In! Use Artificial Intelligence to Enjoy More Disgaea!

Set character moves with the artificial intelligence "Machine Edit" feature; "Auto Battles" for those who don't have much time to train your characters; and "Ranked Battles" to compete against other players!

"Ranked Battles" become number one in the Japanese netherworld. An all new artificial intelligence player-versus-player mode in which you can battle against users around the country online! Shape your strategy by assessing the terrain and reading the movement patterns of your opponents. The strategies you have gathered through trial and error will lead your team to victory!

"Auto Battles" level up your characters only little work. Using an item called "Masoline," you can command your party to fight through stages you have already cleared. Setting AIs according to the stage can let you efficiently level up your characters with less "Masoline" usage!
Here is the reveal trailer for Disgaea 7.
As mentioned earlier, Disgaea 7 is slated to release in Japan January 26, 2023, with several different editions offering goodies like a soundtrack CD, artbook, special box and folding screen. No information regarding a worldwide release has been disclosed as of yet, but considering that most games in the series have received localizations only a few months after their initial Japanese launch, it's safe to assume a Western version will be announced eventually.
Leave a Reply